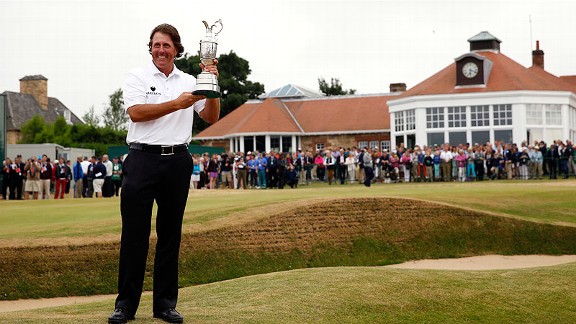 Adrian Dennis/AFP/Getty ImagesGreeny and Mark Schlereth discuss the way that Phil Mickelson won the Open Championship and more.
• ESPN.com's Michael Collins comments on Phil Mickelson's triumph at The Open Championship, Mickelson's 5-under 66 in the final round, Tiger Woods' performance, Woods' future and more. Collins

• Greeny and Stink share their thoughts on Phil Mickelson's win at The Open Championship, the fifth major title of his career. Listen

NCAA TOURNAMENT BET PAYOFFS
Mike Greenberg completes the latest installment of the guys' bracket wager payoff. Photos


Watch: Greeny Milks a Cow


Watch: Greeny Gets Waxed


Watch: Greeny Competitively Eats


Watch: Greeny Sings Vanilla Ice

JAYSON STARK'S MLB TRIVIA
Former Twins skipper Ron Gardenhire managed 2,107 games without winning a World Series. Only two active managers have managed more than 1,800 games without capturing an MLB championship. Who are they? Listen

THE HIGHLIGHTS
Bob Ryan, NBA
Author Bob Ryan offers his insight on the best little man in NBA history, Steve Nash's legacy, the perception of Kobe Bryant in the league and Jerry West's height.
Antonio Pierce, NFL
ESPN NFL analyst Antonio Pierce discusses how teams should approach defending the Broncos and reports about remarks from the Seahawks' locker room concerning Russell Wilson.
Frank Caliendo, NFL
Comedian Frank Caliendo, channeling the voice of Stephen A. Smith, makes picks for Week 8 of the NFL season with Smith.
Locks: 10/24
Mike Greenberg and Mike Golic make their picks for Week 8 of the NFL season in the "Locks."
Jayson Stark, MLB
ESPN MLB Insider Jayson Stark talks about why Buster Posey reminds him of Derek Jeter, the Royals' win in Game 2 of the World Series and Kansas City's dugout.
Ron Jaworski, NFL
ESPN NFL analyst Ron Jaworski offers his insight on the state of the Eagles, Austin Davis' potential and the performances of Tony Romo and Drew Brees this season.
Tony Dungy, NFL
Two-time Super Bowl champion Tony Dungy weighs in on Peyton Manning's passing touchdown record, the Seahawks' struggles and Percy Harvin's departure for the Jets.
Jon Gruden, NFL
MNF's Jon Gruden covers the Seahawks' struggles, Percy Harvin's departure for the Jets, the state of the Bears, the Cowboys' success this season and the Redskins' QB situation.
BEST OF MIKE & MIKE ON ESPN RADIO: TAKING BACK SUNDAY