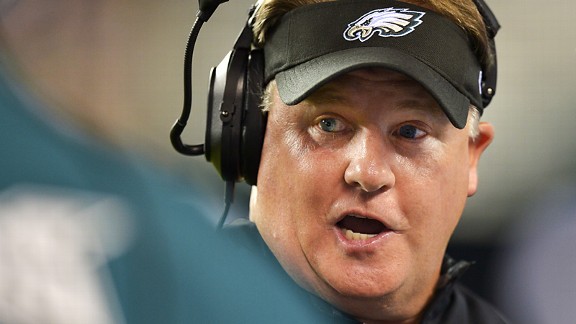 Drew Hallowell/Philadelphia Eagles/Getty ImagesAntonio Pierce tells the guys about whether Chip Kelly's offense will work in the NFL and much more.
• ESPN NFL analyst Antonio Pierce talks about the first week of the preseason, Chip Kelly's style of play, Rex Ryan's remarks regarding the Jets' offense, his expectations for the Broncos and more. Pierce

• ESPN senior fantasy analyst Matthew Berry covers the values of the top QBs, the Giants' RB situation, the Patriots' offense and more. Berry

• Greeny and Golic look ahead to the 2013 season for the Bengals in "Two-A-Days." Can Cincinnati become a Super Bowl contender? Listen

• Greeny and Golic preview the 2013 season for the Browns in "Two-A-Days." How will Rob Chudzinski fare in Cleveland? Listen

LIVE ON ESPNNEWYORK.COM


NCAA TOURNAMENT BET PAYOFFS
Mike Greenberg completes the latest installment of the guys' bracket wager payoff. Photos


Watch: Greeny Milks a Cow


Watch: Greeny Gets Waxed


Watch: Greeny Competitively Eats


Watch: Greeny Sings Vanilla Ice

JAYSON STARK'S MLB TRIVIA
Former Twins skipper Ron Gardenhire managed 2,107 games without winning a World Series. Only two active managers have managed more than 1,800 games without capturing an MLB championship. Who are they? Listen

THE HIGHLIGHTS
Zack Martin, Cowboys
Cowboys OG Zack Martin dishes on his team's offensive line, his transition to the NFL, facing J.J. Watt, beating the Seahawks in Seattle and Dallas' use of DeMarco Murray.
Jimbo Fisher, Florida State
Florida State coach Jimbo Fisher comments on whether Jameis Winston will start against Notre Dame, the investigation of Winston autographs and preparing to face the Fighting Irish.
Brian Kelly, Notre Dame
Notre Dame coach Brian Kelly talks about his school's investigation into academic fraud on the team, Everett Golson's development and preparing to face Florida State.
On Giants' NLCS win, 10/17
Mike Greenberg and Mike Golic react to the Giants' elimination of the Cardinals in Game 5 of the NLCS and Travis Ishikawa's game-ending home run.
Brian Billick, NFL
Super Bowl XXXV champion Brian Billick talks about Jameis Winston's character, whether the Cowboys are running DeMarco Murray into the ground and more.
Kirk Herbstreit, CFB
College GameDay's Kirk Herbstreit offers his insight on Notre Dame-Florida State, the Seminoles' handling of Jameis Winston and the investigation of Winston autographs.
Michael Rapaport, NBA
Director Michael Rapaport discusses the state of the Knicks, New York's hiring of Phil Jackson, Jackson's implementation of mindfulness training and LeBron James' return to the Cavaliers.
On Royals' ALCS sweep, 10/16
Mike Greenberg and Mike Golic share their thoughts on the Royals' elimination of the Orioles in Game 4 of the ALCS, Kansas City's bullpen and Game 5 of the NLCS.
BEST OF MIKE & MIKE ON ESPN RADIO: LEARN TO FLY?