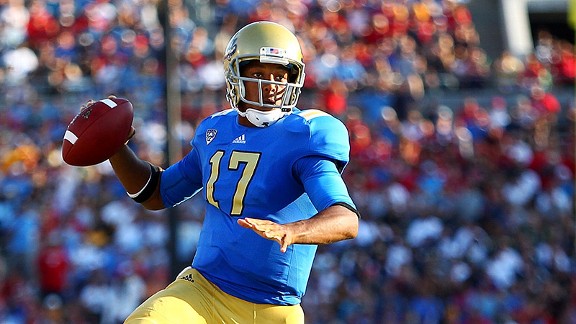 AP Photo/Ben LiebenbergKirk Herbstreit tells the guys about Brett Hundley, Johnny Manziel, Mack Brown's future and more.
• College GameDay's Kirk Herbstreit talks about the Longhorns' struggles, Johnny Manziel's style of play, standout QBs and more. Herbstreit

• ESPN Radio's Colin Cowherd comments on whether his perception of Johnny Manziel changed during Texas A&M's loss to Alabama and more. Cowherd


THE HIGHLIGHTS
Ron Jaworski, NFL
ESPN NFL analyst Ron Jaworski weighs in on Marc Trestman's decision to start Jay Cutler, the motives behind benching Robert Griffin III, the Broncos' offensive concerns, Andy Dalton's potential and more.
Ray Lewis, NFL
ESPN NFL analyst Ray Lewis talks about the choice to start Jay Cutler, the lack of leadership in the Redskins' locker room, the Cowboys' defensive problems and more.
Michael Wilbon, NFL
PTI's Michael Wilbon weighs in on the Redskins' decision to bench Robert Griffin III, Mike Shanahan's future in Washington, the Bears' QB situation and more.
Paul Finebaum, CFB
ESPN Radio's Paul Finebaum talks about Johnny Manziel's NFL prospects, Nick Saban's future, why Saban should stay at Alabama, his legacy with the Crimson Tide and more.
Chris Mortensen, NFL
ESPN NFL Insider Chris Mortensen shares his thoughts on whether Texas would recruit NFL coaches and coordinators, Nick Saban's NFL prospects, the Texans' search for a new coach, the Redskins' future and more.
John Keim, NFL
ESPN Redskins reporter John Keim shares his thoughts on the benching of Robert Griffin III, whether Mike Shanahan will lose his job due to the decision, the motives behind starting Kirk Cousins and more.
Roy Halladay, MLB
Former MLB pitcher Roy Halladay reflects on his career and talks about his decision to retire, the changes in the MLB throughout his time in the league and more.
Jimbo Fisher, Florida State
Florida State coach Jimbo Fisher comments on Jameis Winston's candidacy for the Heisman Trophy, his relationship with Winston, the nature of the BCS standings and more.