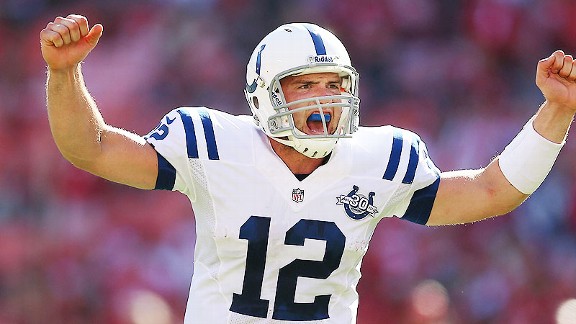 Jed Jacobsohn/Getty ImagesThe guys give their takes on Colts-49ers, Bears-Steelers, Giants-Panthers, Lions-Redskins and more.
• Colts RB Trent Richardson talks about Indianapolis' win over the 49ers, being traded by the Browns, joining a new team during the season, Andrew Luck and more. Richardson

• ESPN NFL analyst Cris Carter covers the 0-3 starts by the Giants and Redskins, the Colts' win over the 49ers, Aldon Smith's indefinite departure from San Francisco to seek treatment and more. Carter

• ESPN NFL analyst Mike Ditka discusses the Redskins' defense, why the 49ers are struggling, the Bears' win over the Steelers, Mike Holmgren's reaction to the Browns' trade of Trent Richardson and more. Ditka

• ESPN NFL analyst Ron Jaworski shares his thoughts on Brian Hoyer's performance in the Browns' win, the Dolphins' 3-0 start, Geno Smith's potential, the Panthers' shutout of the Giants and more. Jaworski

• ESPN NFL analyst Tim Hasselbeck weighs in on QB slides, the Redskins' changed identity, Robert Griffin III, Bears-Steelers and more. Hasselbeck

• Greeny and Golic react to Week 3 of the NFL season, including Bears-Steelers, Giants-Panthers, Colts-49ers, Falcons-Dolphins, Lions-Redskins and more. Listen

NCAA TOURNAMENT BET PAYOFFS
Mike Greenberg completes the latest installment of the guys' bracket wager payoff. Photos


Watch: Greeny Milks a Cow


Watch: Greeny Gets Waxed


Watch: Greeny Competitively Eats


Watch: Greeny Sings Vanilla Ice

JAYSON STARK'S MLB TRIVIA
Cy Young teammates Greg Maddux and Tom Glavine will enter the Baseball Hall of Fame together. Three pairs of current teammates have won MVP awards. Who are the players? Listen

THE HIGHLIGHTS
Mike Smith, Falcons
Falcons coach Mike Smith comments on why his team agreed to appear on "Hard Knocks," Roddy White's contract extension, Julio Jones' health and Tony Gonzalez's departure.
David Shaw, Stanford
Stanford coach David Shaw discusses the outlook for his team, Andrew Luck's NFL career, the College Football Playoff system, the Cardinal's resilience and unionization of student-athletes.
Steve Sarkisian, USC
USC coach Steve Sarkisian talks about his new job, his expectations for the Trojans this season, the biggest challenge his team faces and what he learned from Pete Carroll.
Stephen A. Smith, NFL
ESPN New York 98.7 FM's Stephen A. Smith covers Michael Vick's role for the Jets, Ray Rice's suspension, the Cavaliers' signing of Andrew Wiggins and whether Kevin Love will join Cleveland.
Rusty Wallace, NASCAR
ESPN NASCAR analyst Rusty Wallace gives his take on the Brickyard 400, who has the best chance to win the race, expectations for Jimmie Johnson and the new playoff format.
Frank Caliendo, NBA
Comedian Frank Caliendo shares his impressions with Mike Greenberg and Mike Golic and channels Morgan Freeman in a reading of LeBron James' essay announcing his return to Cleveland.
Tom Jackson, NFL
ESPN NFL analyst Tom Jackson offers his insight on Pat Bowlen's decision to step down as Broncos owner and Denver's training camp.
Nelly, NBA
Actor and rapper Nelly comments on his music, his love of St. Louis sports and owning a team with Michael Jordan.
BEST OF MIKE & MIKE ON ESPN RADIO: MONDAY MORNING QB