Get the latest photos, audio, behind the scenes video and more from The Herd's trip to New Orleans. Plus, leave a comment in the chat for the show. It's all at ESPNRadio.com's Super Week home page.
THE HERD QB BRACKET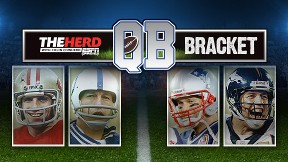 Only one QB could be named the greatest of all-time in "The Herd QB Bracket." Which legend came out on top? The Herd QB Bracket »
INSIDER - SIGN UP TODAY!
Listen to The Herd with Colin Cowherd -- commercial free, either streaming or as a podcast!
The Herd with Colin Cowherd
Fri. 3/7 (3 Segments)
HERD MILE CHALLENGE
After a month of talk, Colin Cowherd attempted to break 6:30 in the mile in the pouring rain. Could he do it? Rece Davis and Herm Edwards had the call. Check out the video and photos. Watch the video

| Photo gallery

AUDIO HIGHLIGHTS
Bill Simmons, NBA
Grantland's Bill Simmons discusses the state of the Lakers, Phil Jackson's future, the perception of Rajon Rondo, Doc Rivers' impact on the Clippers and more.
Brian Windhorst, NBA
ESPN.com's Brian Windhorst covers Phil Jackson's future, LeBron James' decision to attend the Cavaliers' celebration for Zydrunas Ilgauskas, Chris Bosh's role with the Heat and more.
P.J. Carlesimo, NBA
ESPN NBA analyst P.J. Carlesimo comments on the state of the Lakers, whether Derrick Rose and Carmelo Anthony fit well together, the keys to success in the NCAA tournament and more.
Joe Gibbs, NFL
Three-time Super Bowl champion Joe Gibbs discusses vulgarity in NFL locker rooms, how teams will approach Michael Sam, whether the extra point is too automatic and more.
Ramona Shelburne, NBA
ESPN Los Angeles' Ramona Shelburne gives her takes on what comes next for the Lakers, Jim Buss' style of ownership and more.
Opening Rant, 3/7
Colin Cowherd shares his thoughts on the Lakers' loss to the Clippers, the effects of LeBron James' 61-point game against the Bobcats and more.
PHOTO GALLERIES
Check out the highlights of our great visit to ESPN The Weekend.

The Herd's Rose Bowl adventure. Check it out!
PODCASTS
A daily dose of the best of The Herd with Colin Cowherd.
HERD HOOPS CHALLENGE
Colin challenged Bruce Bowen to a game of one-on-one. Was Colin able to pull out a win? Or did the defensive specialist prevail? Photos

BEST OF HERD ON ESPN RADIO: SUPER WEEK