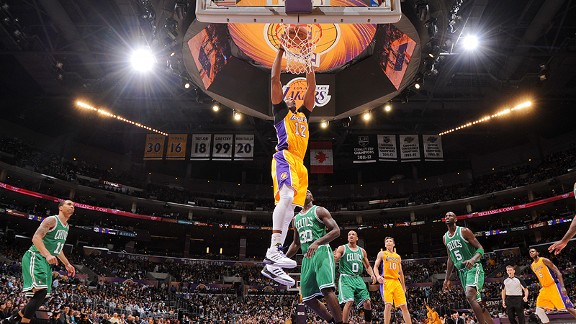 Andrew D. Bernstein/NBAE/Getty ImagesChris Broussard tells Colin about Dwight Howard, the Knicks' mindset at the trade deadline and more.
ESPN NBA Insider Chris Broussard covers the Lakers' handling of Dwight Howard, the Knicks' thinking at the trade deadline and more. Broussard

ESPN.com senior NBA writer Marc Stein dishes on the trade deadline, whether he expects any deals that include Pau Gasol, Danny Granger, Josh Smith or Monta Ellis and more. Stein

ESPN NBA analyst Tom Penn talks about the Lakers' plans for Dwight Howard, whether the Knicks need to make a trade, the values of Rajon Rondo and Danny Granger and more. Penn

ESPN NFL reporter Sal Paolantonio shares his thoughts on the scouting combine, Manti Te'o, whether the Jets should trade Darrelle Revis, Chip Kelly's offense and more. Paolantonio

"Spanning the Globe" features ESPN LA 710's Dave Shore, SiriusXM's Adam Caplan and ESPN.com senior NBA writer Marc Stein. Listen

AUDIO HIGHLIGHTS
Frank Isola, NBA
The New York Daily News' Frank Isola discusses whether Mike Woodson will keep his job, the Knicks' last possession in the loss to the Wizards, the chances of New York acquiring Kyle Lowry from Toronto, Pau Gasol's future and more.
Charley Casserly, NFL
Former NFL GM Charley Casserly weighs in on whether he would consider coaches with CFB backgrounds for a NFL head coach position, Rex Ryan's future, Johnny Manziel's NFL potential, the necessity of a balanced offense and more.
Herm Edwards, NFL
ESPN NFL analyst Herm Edwards offers his insight on the Ravens' improvement, Joe Flacco's ability to perform under pressure, Matthew Stafford's decision-making, the Cowboys' play-calling in the loss to the Packers and more.
Peter King, NFL
Sports Illustrated's Peter King talks about Dennis Pitta's role in the Ravens' offense, the Dolphins' ability to limit distractions, whether Jason Garrett's job is in jeopardy, the key to success in the playoffs and more.
Herd Hierarchy: 12/17
Colin Cowherd ranks the top 10 NFL teams in the Herd Hierarchy.
Opening Rant: 12/17
Colin Cowherd shares his thoughts on the Ravens' win over the Lions and Mike Woodson's failure to call a timeout in the Knicks' loss to the Wizards.
PHOTO GALLERIES
Check out the highlights of our great visit to ESPN The Weekend.

The Herd's Rose Bowl adventure. Check it out!
PODCASTS
A daily dose of the best of The Herd with Colin Cowherd.