LIVE ON ESPNNEWYORK.COM


THE HERD QB BRACKET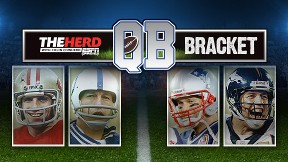 Only one QB could be named the greatest of all-time in "The Herd QB Bracket." Which legend came out on top? The Herd QB Bracket »
INSIDER - SIGN UP TODAY!
Listen to The Herd with Colin Cowherd -- commercial free, either streaming or as a podcast!
The Herd with Colin Cowherd
Thu. 3/6 (3 Segments)
HERD MILE CHALLENGE
After a month of talk, Colin Cowherd attempted to break 6:30 in the mile in the pouring rain. Could he do it? Rece Davis and Herm Edwards had the call. Check out the video and photos. Watch the video

| Photo gallery

AUDIO HIGHLIGHTS
Rick Spielman, Vikings
Vikings GM Rick Spielman talks about the impact of social media, Adrian Peterson's remarks regarding Michael Vick, Minnesota's QB situation and more.
Donnie Nelson, Mavericks
Mavericks GM Donnie Nelson dishes on preparing for the NBA draft, whether too much emphasis is put on the NCAA tournament, the state of the NBA and more.
Chris Broussard, NBA
ESPN NBA Insider Chris Broussard covers Joakim Noah's recruitment of Carmelo Anthony, the Pacers' recent struggles and more.
Greg Cosell, NFL
NFL Films' Greg Cosell comments on his expectations for Blake Bortles and Jimmy Garoppolo, whether Champ Bailey could play S and more.
Opening Rant: 3/6
Colin Cowherd shares his thoughts on why the Broncos' decision to release Champ Bailey is an example of what sets the NFL apart from the other professional leagues.
PHOTO GALLERIES
Check out the highlights of our great visit to ESPN The Weekend.

The Herd's Rose Bowl adventure. Check it out!
PODCASTS
A daily dose of the best of The Herd with Colin Cowherd.
HERD HOOPS CHALLENGE
Colin challenged Bruce Bowen to a game of one-on-one. Was Colin able to pull out a win? Or did the defensive specialist prevail? Photos

BEST OF HERD ON ESPN RADIO: FRIENDLY CONFINES?