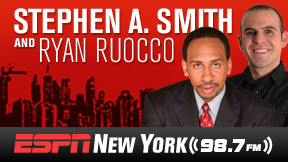 Hosts: Stephen A. Smith and Ryan Ruocco
Weekdays from 1:00 PM - 3:00 PM
@RyanRuocco

Twitter
@StephenASmith

Twitter

Latest Podcast
Alex Trautwig/Getty Images
• Eric Decker pays a free agent visit to the Jets.
• Will Michael Vick join Gang Green as well?
• When will Phil Jackson officially join the Knicks?
Download and listen to the latest podcasts

RUOCCO DOES OTHER STUFF TOO
SOUND BYTES
P.J. Carlesimo
P.J. joins the guys to share his take on Phil Jackson reportedly joining the Knicks. Also, find out what Phil's presence would mean to the future of Carmelo Anthony.
Mason Plumlee
Nets rookie F/C Mason Plumlee joins the guys to talk about his impressive first season, and just how far his team could go in the postseason.
Antonio Cromartie
Former Jets cornerback Antonio Cromartie joins the guys to talk about his recent release and whether or not a return to Gang Green is possible.
Mike Woodson
Knicks HC Mike Woodson gives his take on why his team has struggled this season and how Raymond Felton's off-court issues have affected the play of his starting point guard.
Dwane Casey
Toronto Raptors head coach Dwane Casey joins the guys to discuss his team's success this season, and if it can continue in to the postseason.
MUST READ
Our teams can't make it in New York -- which means they won't make it anywhere.
LIVE ON ESPNNEWYORK.COM
SportsCenter AllNight
12:00 AM-4:00 AM