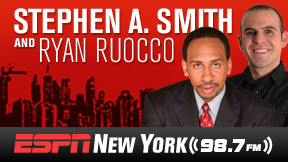 Hosts: Stephen A. Smith and Ryan Ruocco
Weekdays from 1:00 PM - 3:00 PM
@RyanRuocco

Twitter
@StephenASmith

Twitter

Latest Podcast
Anthony Gruppuso/USA TODAY Sports
• Can the Nets handle the spotlight being solely on them?
• The Carmelo Anthony watch continues.
•
Dwane Casey
talks about the lack of respect his Raptors are getting.
s
Download and listen to the latest podcasts

RUOCCO DOES OTHER STUFF TOO
SOUND BYTES
Don LaGreca
Don joins the show to help break down the Rangers-Flyers first round playoff series. The guys also discuss the Knicks and the future of Carmelo Anthony now that the season is over.
Mike Fratello
Mike Fratello joins the guys as we look ahead to the NBA playoffs. Coach also lets you know who the Nets should be hoping they draw in the first round.
Jimmie Lee Solomon
Former MLB executive Jimmie Lee Solomon joins the show to share his take on how baseball can improve its standing with African-American athletes, 67 years after Jackie Robinson made history in Brooklyn.
Bob Nightengale
Bob joins the guys to help examine the rate of progress that has been made since Jackie Robinson made history in Brooklyn on April 15th, 1947.
Mike Woodson
Knicks HC Mike Woodson discusses his team's status heading in to Friday's must-win game vs. Toronto, as well as the state of their postseason hopes.
MUST READ
Our teams can't make it in New York -- which means they won't make it anywhere.