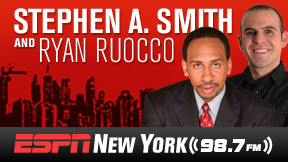 Hosts: Stephen A. Smith and Ryan Ruocco
Weekdays from 1:00 PM - 3:00 PM
@RyanRuocco

Twitter
@StephenASmith

Twitter

Latest Podcast
Sergio Garcia apologizes for his comments about Tiger Woods. Does he deserve forgiveness? What are the Pacers chances against the Heat?
Download and listen to the latest podcasts

SOUND BYTES
Dan LeBatard: 5/22
Dan LeBatard says because of last year's championship, there is no one picking against the Heat which is a big change from last year.
Skip Bayless: 5/22
Skip Bayless says the Pacers have little to no chance against the Heat.
Tim Legler: 5/22
Tim Legler says the Heat offense gives Indiana's defense a lot of match up problems.
Glen Grunwald: 5/21
Knicks GM Glen Grunwald says they took a good step forward for the franchise but they have some decisions to make to move forward again.
Stephen A. Smith: 5/20
Stephen A. Smith says there is virtually no shot at Chris Paul coming to the Knicks.
Alan Hahn: 5/20
Alan Hahn says there are avenues the Knicks can explore to try and get Chris Paul.
Mike Woodson: 5/17
Knicks HC Mike Woodson says, "Guys can't worry about minutes. It's what you do on the floor when you get minutes."
David Garrard: 5/16
Retiring Jets QB David Garrard says the doctors told him his knee would never improve, and he didn't want to be a guy hobbling around the field.
MUST READ
Loss to Pacers means Melo & Co. can't sell season as something to boast about.
LIVE ON ESPNNEWYORK.COM


Coming Up

6:30 PM

NY Rangers vs. Boston

10:00 PM

Dave Rothenberg