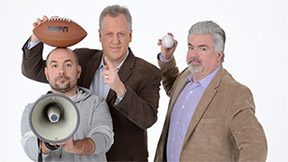 Host: Michael Kay, Don La Greca, Peter Rosenberg
Weekdays 3:00 PM - 7:00 PM
Email the show at tmksespn@gmail.com
@RealMichaelKay

Twitter
@DonLaGreca

Twitter
@Rosenbergradio

Twitter

Michael Kay, Don La Greca and Peter Rosenberg bring their expertise and insight to New York sport fans during the afternoon drive. These veteran broadcasters get you ready for the evening's games while entertaining you with good-natured humor throughout.
Latest Podcast
• Is Noah Syndergaard now the ace of the Mets' pitching staff?
• Peter makes a fashion statement that Michael and Don simply don't care for.
Download and listen to the latest podcasts

And don't miss a single episode of ENN with Peter Rosenberg

DON LA GRECA NEWS
98.7FM has reached a three-year extension with Don La Greca as co-host of The Michael Kay Show. Story »
DAY OF A 1,000 DONS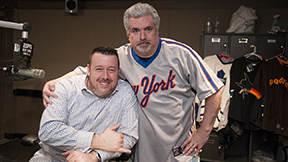 It was a new jersey at every break when Don La Greca showed his team spirit to benefit the Jimmy V Foundation. Photos

MUST LISTEN
Did you miss the show? Download or stream full TMKS podcast. Posted daily.
98.7'S DAY OUT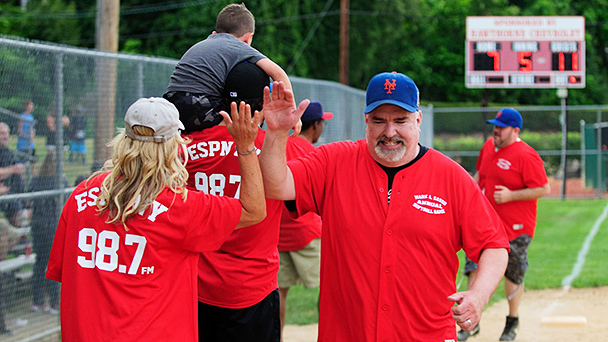 Every summer, championed by our own Don La Greca, 98.7 ESPN plays in the Mark A. Sasso Annual Softball Game. Check out some photos from this year's game. On Facebook

REMEMBERING YOGI
Listen to some of the broadcasters and players that called into "The Michael Kay Show" to remember Yogi Berra.
•
Hal Steinbrenner

|
Ron Guidry

•
Keith Hernandez

|
Mike Lupica

•
Willie Randolph

|
John Flaherty

•
Lee Mazilli

|
Goose Gossage

More:
•
O'Connor: Yogi and Jeter »
•
Matthews: Unforgettable and incomparable »
•
Photos: Yogi Berra: 1925 - 2015