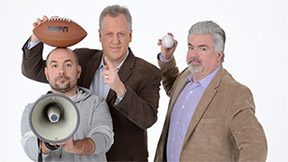 Host: Michael Kay, Don La Greca, Peter Rosenberg
Weekdays 3:00 PM - 7:00 PM
Email the show at tmksespn@gmail.com
@RealMichaelKay

Twitter
@DonLaGreca

Twitter
@Rosenbergradio

Twitter

Michael Kay, Don La Greca and Peter Rosenberg bring their expertise and insight to New York sport fans during the afternoon drive. These veteran broadcasters get you ready for the evening's games while entertaining you with good-natured humor throughout.
Latest Podcast
• Is Noah Syndergaard now the ace of the Mets' pitching staff?
• Peter makes a fashion statement that Michael and Don simply don't care for.
Download and listen to the latest podcasts

And don't miss a single episode of ENN with Peter Rosenberg

DON LA GRECA NEWS
98.7FM has reached a three-year extension with Don La Greca as co-host of The Michael Kay Show. Story »
DAY OF A 1,000 DONS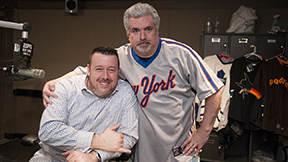 It was a new jersey at every break when Don La Greca showed his team spirit to benefit the Jimmy V Foundation. Photos

MUST LISTEN
Did you miss the show? Download or stream full TMKS podcast. Posted daily.
YOUR NEXT FAVORITE PODCAST!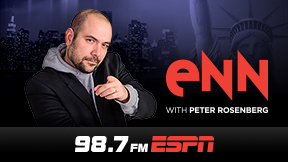 No topic is out of bounds or off limits as Peter Rosenberg seizes the airwaves from "The Michael Kay Show" to present the "Evening Nightly News." Peter seeks out stories you'll find funny, troubling or simply "repug." It's sort of like SportsCenter -- if SportsCenter lost its mind. Find it on iTunes, the ESPN app or right here.

SOUND BYTES
Sean Marks
Brooklyn Nets GM Sean Marks joins the show to talk about his plan to change the franchise's fortunes.
Mike Breen
Mike stops by the show to discuss the state of the Knicks, and what the team should do moving forward.
Jalen Rose
Jalen Rose breaks down the Knicks' issues and how much blame should be placed on Carmelo Anthony.
SOUND OF SUPERWEEK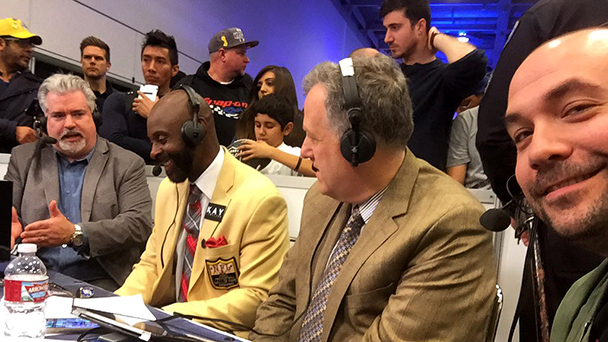 "The Michael Kay Show" was in San Francisco for Super Bowl 50. Look who stopped by to chat.
•
Rice: OBJ's work ethic makes him great

•
Manning: I don't know if my brother will retire

•
Mad Dog on his future in New York radio

•
Namath: The Jets should consider Kaepernick

•
Marshall: Embrace Cam's celebrations

•
Cruz: Definitely want to return to Giants

•
Richard Sherman: D will rule on SB Sunday

•
Marino: Championships can define a career

•
Colon: Must collapse pocket against Cam

•
Montana: Never liked players behind me

•
Lott: Panthers' D could be difference

•
Sharpe: There's a double standard with QBs

•
Reynolds: Deadpool took a while to make

•
Gooding Jr: It's interesting to portray OJ

LIVE ON ESPNNEWYORK.COM
SportsCenter AllNight
12:00 AM-6:00 AM


Coming Up

6:00 AM

NY Sports And Beyond

7:00 AM

Bill Daughtry

9:00 AM

Dave Rothenberg
98.7'S DAY OUT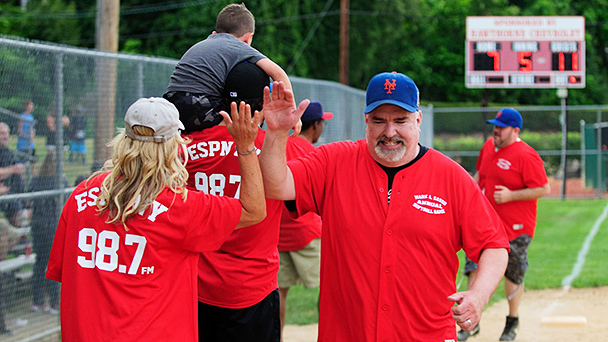 Every summer, championed by our own Don La Greca, 98.7 ESPN plays in the Mark A. Sasso Annual Softball Game. Check out some photos from this year's game. On Facebook

REMEMBERING YOGI
Listen to some of the broadcasters and players that called into "The Michael Kay Show" to remember Yogi Berra.
•
Hal Steinbrenner

|
Ron Guidry

•
Keith Hernandez

|
Mike Lupica

•
Willie Randolph

|
John Flaherty

•
Lee Mazilli

|
Goose Gossage

More:
•
O'Connor: Yogi and Jeter »
•
Matthews: Unforgettable and incomparable »
•
Photos: Yogi Berra: 1925 - 2015