NASHVILLE, Tenn. -- When Mike Heimerdinger first broke down Vince Young's game, the coach's primary concern was the quarterback's base.
Job No. 1 for the Tennessee Titans' new offensive coordinator was to help Young get his feet under him so he could play better. It's also an apt metaphor for the face of the franchise as Young searches for his balance heading into his third season.
Whether he is leading a huddle, scrambling as he searches for an open receiver, hanging out in the locker room or back in Austin having a good time with friends, Young faces questions about his maturity.
"It's everyday life," Young recently told a group of reporters. "In everyday life you learn something. You're all older than me, you all still learn something every day and get more mature. That's the same thing with me. I'm continuing to get more mature every day, going through the general process of things going on in my life and just in general."
As Young led Tennessee's offense through an organized team activity session Tuesday morning, he was upbeat, bouncy, chatty. It's how he likes to see himself: as a kidder and fun-loving guy. He often reminds people that he's goofy, and it's clear his teammates enjoy the tone he tries to set.
He won huge respect for knocking defensive tackle Randy Starks off his feet with a booming shoulder after throwing an interception in a training camp practice his rookie year. Before his second camp, he placed a letter in his teammates' lockers thanking them for their roles in his Offensive Rookie of the Year season.
But big leadership moments such as those have been accompanied by some situations in which Young hasn't necessarily reacted as the team or its followers might have liked.
As a rookie, he pouted when coach Jeff Fisher ordered the team plane to leave him behind when he was late for a team flight to Philadelphia, as if his coach had crossed him instead of the other way around. Recently, Young suggested to a veteran reporter from NFL.com that he had considered retiring after his rookie year, then worked to spin the story differently after the negative reaction.
"If everyone is looking for him to change and calm down, I don't know if that's going to happen," said Titans tight end Bo Scaife, who also played at Texas with Young and is one of his closest friends. "He understands he's a role model. He's a quarterback, and everybody is going to watch everything he does.
"So he definitely has to watch how he reacts and how he handles certain situations. But one thing about Vince is he isn't ever going to change, he's always going to be him."
To his credit, the quarterback who once told "60 Minutes" no one could tell him anything has shown two key newcomers -- Heimerdinger and Alge Crumpler, the veteran tight end brought in to serve as his safety valve -- he's plenty coachable.
Heimerdinger actually was surprised at how swiftly Young caught on to the themes of the footwork changes.
"I thought it would be kind of dramatic because you're asking a guy to change the way he's been throwing for a long time, at least with his feet," he said. "I didn't think he'd catch on as quickly. When we started doing the drills for it, there was such a big difference between Day 1 and Day 3 that I knew he was going back home, working on it and it was important to him."
His footwork wasn't the only thing he worked on. While completing course work toward his degree in Austin this spring, Young flew back to Nashville on Wednesday evenings and got a classroom session in that night before doing field work on Thursdays and Fridays.
Heimerdinger actually liked that Young was off on his own some of the time because it gave him a chance to gauge his quarterback's dedication and ability to follow through with plans.
Young showed Heimerdinger that he'd ponder things after those Wednesday evenings, because the coordinator would see improvement on Thursdays.
The quarterback also has become increasingly willing to admit his mistakes.
"When he does something wrong, he'll turn to me and say, 'I messed it up, my feet were wrong' or 'I made the wrong read' or 'That's on me,' and I don't know if he did that all the time before, I wasn't with him," said Heimerdinger, who was the Titans' coordinator from 2000 to 2004 before moving to the New York Jets and Denver Broncos.
He came back to replace his replacement, Norm Chow, who was fired after Young's apparent regression. "But that's maturity when a quarterback says, 'Hey, that's my fault, that wasn't somebody else's fault.' He's taking the hit for that, so I think we've made progress."
How will the footwork alterations change Young's game?
His accuracy should continue to improve after jumping from 51.5 to 62.3 percent from 2006 to 2007.
Now, as Heimerdinger seeks more yards after the catch, he said he can't have pass targets diving or jumping to pull the ball in.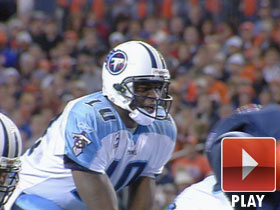 NFL.com Video
2007 Highlight: Vince Young pass deep left to Roydell Williams for a 41-yard touchdown.
Just as importantly, the alterations should help set up Young to run more effectively when he decides the options produced by routes on a play don't warrant a throw.
Even in OTA practices in which it's hard to simulate a pass rush, Fisher has seen Young step up into the pocket rather than hanging back, as had become his habit.
"We do have team-oriented drills and the pocket does collapse, and what Vince is doing much more now is moving up in the pocket," Fisher said. "He's stepping up in the pocket with his eyes downfield and picking up receivers rather than keeping his depth in the pocket and scrambling with depth. He'll be able to make more plays not only as a passer but also as a runner as he moves forward."
With Young struggling and dealing with a quad injury for a share of the 2007 season, he threw only nine touchdown passes against 17 interceptions. Those numbers looked especially bad when compared to someone like Cleveland's Derek Anderson (29 TDs, 19 picks).
But it was Young's Titans, not Anderson's Browns, who seized the AFC's final playoff berth.
Feet now squarely beneath him, Young is expecting a third season with better numbers, another playoff appearance and quieter critics.
Paul Kuharsky covers the NFL for ESPN.com.