Since his signing in late February, Jonathan Vilma has been held back by the New Orleans Saints. Come September, they're going to turn the linebacker loose.
After two years of captivity in New York, that's precisely what Vilma needs. After watching their defense keep them out of the playoffs last season, having Vilma roam the field might be exactly what the Saints need.

Nobody's really seen a glimpse of it yet because the Saints were extremely cautious with Vilma throughout the offseason. Coming off knee surgery, the Saints severely limited Vilma's work in team drills during organized team activities and minicamp.
But Vilma's expected to be completely healthy for the start of training camp in late July. He'll take his spot at middle linebacker and the Saints are hoping he'll become the heart of their new-look defense.
That will be a nice change for Vilma, who spent the last two seasons looking and feeling out of place in the 3-4 defensive scheme the Jets went to when coach Eric Mangini took over in 2006. In a 4-3 scheme the two years prior to that, Vilma was viewed as one of the NFL's best young linebackers.
In New Orleans' 4-3 system, Vilma could be a perfect fit.
"I look at it as a new start, a new beginning,'' Vilma told the New Orleans media a few weeks ago. "I think it's an ideal situation. You come in and they obviously want me to play a leadership role and a starting role and being in a defense that I'm comfortable with and just being able to go.''
What we learned from minicamp
Bringing in Vilma wasn't the only major defensive move the Saints made. They also signed free-agent defensive end Bobby McCray from Jacksonville and jumped up in the draft to get defensive tackle Sedrick Ellis. The early results have been impressive.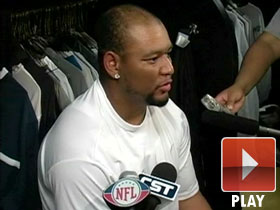 NFL.com Video
Deuce McAllister and Drew Brees discuss the RB's progress at minicamp.
Some observers of minicamp and organized team activities said McCray might be better than advertised and he and Ellis could help a defensive line that already had plenty of talent become one of the league's elite units.
Will Smith and Charles Grant already were a solid pair of starting defensive ends. But the addition of McCray, who may be used as a pass-rush specialist or a starter if Grant's legal issues keep him off the field, gives the Saints more depth than they've had in recent years.
They also got more width with Ellis. The Saints couldn't stop the run last year, but that's what Ellis does best. He'll be counted on to jam the middle and keep offensive linemen away from Vilma.
Still unresolved
Marques Colston, the team's quiet wide receiver, made some big noise when he skipped the final week of organized team activities. He wants a new contract and deserves one after outperforming his initial deal. That situation probably will be cleared up before long because the Saints have been pretty proactive with contract extensions.
But there are some other big questions at wide receiver, where the team doesn't have much beyond Colston. The Saints can fall back on David Patten and Devery Henderson, but they're really hoping Robert Meachem will make a huge leap after a hugely disappointing rookie season.
Meachem, a first-round pick, was so lost last season that the Saints wouldn't even put him on the field. But the word out of New Orleans recently is that Meachem looks like a completely different player. He showed flashes during the offseason program and, more importantly, showed he now has a clue about the playbook.
There was no doubt Meachem had first-round physical talent last year. Now he might be ready to use it.
Injury analysis
Coming off the second ACL surgery of his career, running back Deuce McAllister gave the Saints some encouragement when he took part (on a limited basis) in minicamp. There are no guarantees and the Saints don't want to put all the hopes for their running game on McAllister, but there's a growing feeling he still may play a significant role.
But it's also time for Reggie Bush to play a much bigger role in the offense. Bush may not ever be an every-down back, but he needs to take some downs away from McAllister.
Don't overlook
Campbell
The Saints ranked 28th in rushing offense last year and there's no doubt McAllister's Week 3 injury was a major blow. But there was one other subtle factor in those struggles. The Saints had to play all of last season without tight end Mark Campbell, who went down in training camp with a back injury. Campbell had surgery and has made a complete comeback. That's going to help the running game a lot because Campbell, who doesn't do much as a pass-catcher, is one of the league's better blocking tight ends.
Training camp start date: July 24
Pat Yasinskas covers the NFL for ESPN.com.