Discussion
Throw a flag on the N-word
Banning the use of the N-word in the NFL would be a positive step
Stipulating and enforcing a policy that NFL players, particularly black NFL players, refrain from using the N-word on the playing field isn't complicated, racist, hypocritical or an abuse of power.
It's progress. No different from the NBA stipulating and enforcing a policy that required its players to dress like young professionals when sidelined and attending games. When initially floated and subsequently enacted, the shortsighted and simple-minded crowd pilloried commissioner David Stern's ...

Read full story
THE NFL ON ESPN.COM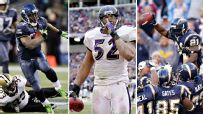 We're out to determine the most memorable play in each team's history. Vote now!