Discussion
U.S. senators send letters to Goodell
Letters signed by 50 U.S. senators urging the league to change the Washington Redskins name were sent on Thursday to NFL commissioner Roger Goodell.
The senators draw a parallel between the NBA's no-tolerance policy regarding the racist comments made by Los Angeles Clippers owner Donald Sterling and asks the NFL to act similarly.
"Today, we urge you and the National Football League to send the same clear message as the NBA did: that racism and bigotry have no place in professional ...

Read full story
THE NFL ON ESPN.COM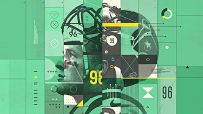 FiveThirtyEight.com reveals the secret process used to determine "Madden" ratings.