Discussion
Dan Marino files concussion lawsuit
Updated:
June 3, 2014, 10:09 AM ET
Associated Press
PHILADELPHIA -- Hall of Fame quarterback Dan Marino is among the latest group of football players to file a concussion-related lawsuit against the National Football League.
The 52-year-old former Miami Dolphins quarterback is one of 15 former players who filed a lawsuit in federal court in Philadelphia last week.
Marino and the other 14 plaintiffs join more than 4,800 others who have alleged the NFL misled players about the long-term dangers of concussions. The NFL has denied ...

Read full story
CONCUSSION COVERAGE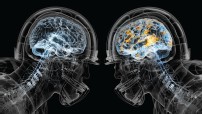 In the wake of the new book League of Denial, the subject of concussions remains in the national consciousness. Here is some of ESPN.com's more recent coverage of the story.