Discussion
NFL player poll: Redskins name OK
Updated:
September 2, 2014, 9:44 PM ET
ESPN.com
A majority of NFL players support the Washington Redskins nickname, according to a non-scientific survey conducted by NFL Nation reporters throughout the offseason and training camp.
Players were asked a simple question: "Yes or no: Do the Redskins need to change their name?" Of 286 players polled, 167 -- 58 percent -- said the Redskins should not change their name, with 119 players -- 42 percent -- saying they should find a new nickname.
NFL Nation polled 51 Redskins ...

Read full story
WASHINGTON'S NICKNAME: AN NFL DILEMMA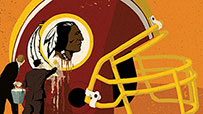 "Outside The Lines" presents a one-hour special report Tuesday at 8 p.m. ET on ESPN2. It will reair at 11 p.m. ET on ESPNEWS.