Discussion
NFL's five best improvisational QBs of all time
Tony Romo and Brett Favre are known for their improv skills. Who are the best improvising QBs of all time? Greg Garber breaks down the top five.
Originally Published:
November 28, 2007
By
Greg Garber
| ESPN.com
Playing quarterback in the NFL is one of the most meticulously orchestrated and regimented jobs in football. There are dozens of excruciatingly specific plays, often with various permutations and variables.
Like Tony Romo and Brett Favre, there have been quarterbacks in NFL history who have broken out of the usual box and made things up on the fly. Here are five fantastic football improvisers who sometimes seemed as if they were playing a scaled-down sandlot version of the game:
Cunningham
Randall ...

Read full story
PACKERS AT COWBOYS (Thursday, 8:15 ET)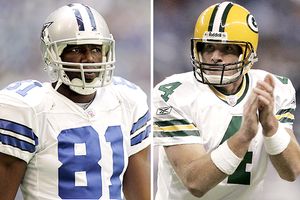 Terrell Owens and the Dallas Cowboys (10-1) play host to Brett Favre and the Green Bay Packers (10-1) on Thursday night in a game that could determine homefield advantage in the NFC playoffs. Only about a third of the homes in the U.S. will be able to watch the game on TV. Here's why

| Discuss the game.

Commentary/features
•
Power rankings: Dallas second, Green Bay third
•
Garber: Romo, Favre are improvising masters
•
Garber: Five improvising QB masters
•
Snoop Dogg raps Tony Romo
•
Clayton: First and 10
•&nbsp
Grant's run to glory
•
Wickersham: Best of weak NFC
•
Packers or Cowboys? Experts make their picks
•
Page 2: Inside Favre's brain
•
Cowboys-Packers through the years
News
•
Clayton: Injury report

ZOOM galleries
•
Top 5 NFL improvisational QBs
•
Top 5 NFL improvisational QBs ever
•
Top 5 college improvisational QBs
Video
•
Steve Young: QB improvisation about awareness
•
Brett Favre: "Play loose but be ready to play"
•
Dissecting Brett Favre's renaissance
•
Keyshawn Johnson's advice for Tony Romo
•
Field Pass: Green Bay vs. Dallas
•
Phillips and McCarthy surprising many
Simulation
•
EA Simulation: The winner in OT is...
Scouts Inc.
•
Tale of the tape: Too close to call
•
Offenses are in high gear
•
Improved Packers' O-line benefits Grant
•
Packers' terrific cornerback tandem
•
Packers' coaches are the key
•
Game could be decided by trench warfare
•
Horton: Notes from the film room