Discussion
Old-age issue for Redskins' Ordinary Joe
The experiment to bring Joe Gibbs back to Washington was a failed one, writes Len Pasquarelli.
Originally Published:
January 8, 2008
By
Len Pasquarelli
| ESPN.com
On Jan. 8, 2004, in the wake of the Washington Redskins' stunning move to bring back Joe Gibbs for a second incarnation as head coach, I wrote a column in which the final paragraph read:
Maybe we'll be wrong about this but, for the heck of it, here's a bet: Three years from now, the guy who accepted the Redskins job as a Hall of Fame member will be viewed as just another ordinary Joe.
And now, with Gibbs' having resigned Tuesday morning in a decision that was not altogether ...
Read full story
JOE GIBBS RETIRES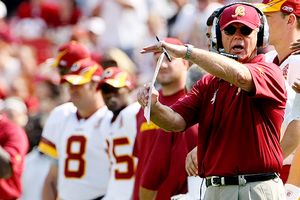 Joe Gibbs retired as Redskins coach and team president Tuesday, three days after a playoff loss ended an inspirational late-season run that followed the death of safety Sean Taylor.

News
•
Gibbs retires as Redskins coach, president
•
Gibbs expected to resume NASCAR team duties
•
NFL coaching changes
Commentary/analysis
•
Pasquarelli: Failed experiment to bring him back
•
Clayton: Job took a heavy toll
•
Newton: Redskins' loss could be racing's gain
•
Clayton: Possible candidates
•
Zoom gallery: Gibbs' career
•
Hashmarks blog: What about Cowher?
Video/Audio
•
Gibbs announces his retirement

•
Clayton on Gibbs' departure

•
Mortensen: It's no surprise

•
Gibbs to retire as Redskins coach

SportsNation
•
Vote: Did Gibbs tarnish legacy?
•
Gibbs' 2007 approval rating