Discussion
Favre's top 10 career moments
Updated:
August 19, 2009, 10:41 AM ET
ESPN Research
1. Super Bowl XXXI Date: Jan. 26, 1997 Score: Packers 35, Patriots 21 Why it mattered: Favre passed for two touchdowns (54, 81 yards) -- including one on the second play of the game -- and ran for another in the Packers' first Super Bowl in 29 years.
2. Playing for his father Date: Dec. 22, 2003 Score: Packers 41, Raiders 7 Why it mattered: Just one day after the sudden death of his father, Irv, Favre passed for 399 yards and four touchdowns on "Monday Night Football" in a blowout win.
3. ...

Read full story
FAVRE SIGNS WITH VIKINGS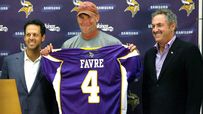 Brett Favre, the NFL's all-time leading passer, signed a two-year, $25 million deal with the Vikings on Aug. 18.
NFC North blog
|
Vikings schedule
NEWS
ANALYSIS/BLOG POSTS
FEATURES
SPORTSNATION
VIDEO
PHOTO GALLERIES