Discussion
Flacco, Ravens should soar to new heights in 2009
These eight young players should be the NFL's breakout stars in 2009.
It happens every year. Players come out of nowhere to become NFL household names.
Did you know much about Tennessee's Cortland Finnegan a year ago? You surely do now, after his Pro Bowl season in 2008. The same goes for the Giants' Justin Tuck and the Panthers' Jon Beason, two players who ascended in 2008 to become key contributors for Super Bowl contenders. As this season winds to a close, we're taking a look at young NFL players who showed enough in 2008 to make us believe ...
Read full story
ESPN.COM'S LOOK AT THE YEAR AHEAD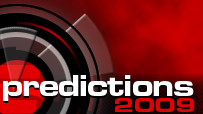 What to expect across the sports spectrum in 2009? ESPN.com offers things you might see coming, some you won't and some that will just flat-out surprise. Predictions to consider:
PRO SPORTS
COLLEGE SPORTS
MORE SPORTS