Discussion
Owens' exit won't cure Dallas' ills
Originally Published:
March 5, 2009
By
Len Pasquarelli
| ESPN.com
After all these years, now we know what the "D" in "Big D" stands for.
Dysfunctional.
By jettisoning wide receiver Terrell Owens, owner Jerry Jones has summarily removed a significant problem. However, he has yet to address the source.
Releasing the problematic Owens, although admirable, is kind of like popping a nettlesome pimple. It helps your overall appearance, but you're still left in the morning with a face full of acne. And make no mistake, the Cowboys have plenty of acne.
Certainly, ...

Read full story
T.O. TO BUFFALO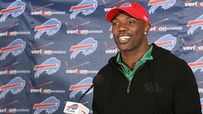 Terrell Owens, released by the Dallas Cowboys, signed a 1-year, $6.5 million with the Buffalo Bills on March 7.
NEWS AND FEATURES
ANALYSIS: BILLS SIGNING
PAGE 2
VIDEO: BUFFALO SIGNING
ANALYSIS: COWBOYS RELEASE
VIDEO: DALLAS RELEASE
AUDIO