Discussion
Re-signing with Colts wasn't a snap
The Colts' center remains thanks to a surprise windfall
There are so few surprises in free agency. Players identify which teams want their services. Teams target the players they desire. The contracts -- well, they're surprising, but only in their grandness, with fans arguing which teams overpaid and which players are overpaid. Seldom are the team and player both pleasantly surprised, especially in a mutually beneficial way.
And so it was that the night of Feb. 25, Jeff Saturday was talking about babysitters. The Indianapolis ...

Read full story
2009 FREE AGENCY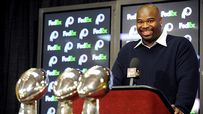 Free agency started with a bang when defensive tackle Albert Haynesworth signed a seven-year deal with Washington and the Redskins re-signed their own free agent, cornerback DeAngelo Hall.
Free-agency blog »
FA tracker »
COLUMNS/FEATURES/BLOG POSTS
FANTASY SPINS
SCOUTS INC. BREAKDOWN
SALARY CRUNCH