Discussion
T.O., Bills marriage makes sense
The only surprising thing about the Buffalo Bills' decision to sign wide receiver Terrell Owens was how quickly the deal happened. It seemed likely that the Bills would take a little more time to think about whether Owens would fit in with their young team after Dallas released him last week.
It also seemed plausible that Owens might take a little more time to determine his options once he was an unrestricted free agent. But before anybody could stop talking about all the carnage he had ...

Read full story
T.O. TO BUFFALO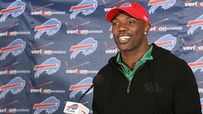 Terrell Owens, released by the Dallas Cowboys, signed a 1-year, $6.5 million with the Buffalo Bills on March 7.
NEWS AND FEATURES
ANALYSIS: BILLS SIGNING
PAGE 2
VIDEO: BUFFALO SIGNING
ANALYSIS: COWBOYS RELEASE
VIDEO: DALLAS RELEASE
AUDIO