Discussion
Monroe signs 5-year deal with Jags
First-round draft pick Eugene Monroe ended a 12-day holdout on Friday by signing a five-year contract with the Jacksonville Jaguars.
The Florida Times-Union was first to report a deal had been struck on Friday.
An ESPN.com source said Monroe is expected on the practice field with the team Friday night. The team held its final public practices of training camp Thursday. Monroe missed 22 workouts over 12 days.
The Jaguars selected Monroe out of Virginia in an effort to refortify ...

Read full story
PRESEASON NFL COVERAGE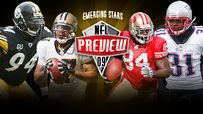 BLOGS
EMERGING STARS
AFC CAMP CONFIDENTIAL
NFC CAMP CONFIDENTIAL
FOOTBALL OUTSIDERS
COLUMNS/FEATURES