Discussion
Favre: It's all about him now
It's obvious that Minnesota Vikings quarterback Brett Favre didn't learn some valuable lessons from his single season with the New York Jets. If he had, he wouldn't have shown up in Minnesota nearly three weeks after his teammates started training camp. That's the first thing we should've questioned in Favre's latest return from retirement. He still has no clue how selfish his recent actions appear to those who've followed his Hall of Fame career.
At this point, it's fair to say Favre will ...

Read full story
FAVRE SIGNS WITH VIKINGS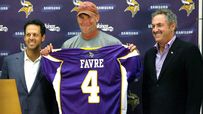 Brett Favre, the NFL's all-time leading passer, signed a two-year, $25 million deal with the Vikings on Aug. 18.
NFC North blog
|
Vikings schedule
NEWS
ANALYSIS/BLOG POSTS
FEATURES
SPORTSNATION
VIDEO
PHOTO GALLERIES