Discussion
Sore knee forces Williams to sit
Updated:
August 26, 2009, 2:42 PM ET
Associated Press
CHARLOTTE, N.C. -- Carolina Panthers running back DeAngelo Williams has missed practice with a sore knee.
The injury doesn't appear serious and Williams was joking with his teammates as he rode a stationary bike Wednesday. Coach John Fox wouldn't say which knee it was or when Williams started experiencing pain.
The Panthers were without their top two running backs. Jonathan Stewart missed his 14th straight practice with pain in his left Achilles tendon.
Williams and Stewart combined ...

Read full story
PRESEASON NFL COVERAGE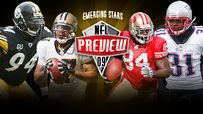 BLOGS
EMERGING STARS
AFC CAMP CONFIDENTIAL
NFC CAMP CONFIDENTIAL
FOOTBALL OUTSIDERS
COLUMNS/FEATURES