Discussion
Jackson should be ready for season
Updated:
August 26, 2009, 3:48 PM ET
Associated Press
ORCHARD PARK, N.Y. -- Buffalo Bills running back Fred Jackson was breathing much easier Wednesday knowing that his sprained left wrist shouldn't cause him to miss the start of the regular season.
Though his wrist and thumb were too sore to allow him to practice, Jackson said tests showed no serious injury a day after he took a hit on his left hand during a running play. What worried Jackson was that he was hit just above the thumb, aggravating an injury he sustained about a week ago.
"It ...

Read full story
PRESEASON NFL COVERAGE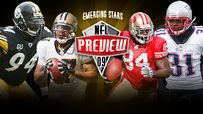 BLOGS
EMERGING STARS
AFC CAMP CONFIDENTIAL
NFC CAMP CONFIDENTIAL
FOOTBALL OUTSIDERS
COLUMNS/FEATURES