Discussion
Bulger throws 21 passes in side session
Updated:
August 30, 2009, 5:39 PM ET
Associated Press
EARTH CITY, Mo. -- Rams quarterback Marc Bulger took the first step Sunday toward returning to the playing field.
Bulger, out since Aug. 17 after fracturing the pinky on his throwing hand, threw 21 passes in a side session at the morning practice. Coach Steve Spagnuolo didn't watch the session, but said offensive coordinator Dick Curl was pleased with the performance.
"The plan is to see what it feels like tomorrow morning, after having had the 21 throws," Spagnuolo said. "Then ...

Read full story
PRESEASON NFL COVERAGE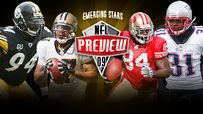 BLOGS
EMERGING STARS
AFC CAMP CONFIDENTIAL
NFC CAMP CONFIDENTIAL
FOOTBALL OUTSIDERS
COLUMNS/FEATURES