Discussion
Brady tests shoulder in practice
Updated:
September 1, 2009, 7:58 PM ET
Associated Press
FOXBOROUGH, Mass. -- Tom Brady zipped passes from 10 yards, lofted softer ones from 25 and showed no sign that his shoulder hurt.
It certainly was much better at Tuesday's practice than it was four days earlier when 350-pound Albert Haynesworth of the Washington Redskins landed on him, forcing his throwing shoulder into the ground on an incomplete pass.
New England Patriots coach Bill Belichick didn't say if Brady would play Thursday night against the New York Giants, although ...

Read full story
PRESEASON NFL COVERAGE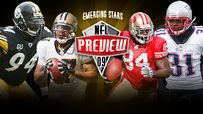 BLOGS
EMERGING STARS
AFC CAMP CONFIDENTIAL
NFC CAMP CONFIDENTIAL
FOOTBALL OUTSIDERS
COLUMNS/FEATURES