Discussion
Grimm, Randle, LeBeau part of '10 class
Updated:
August 6, 2010, 9:57 AM ET
Associated Press
FORT LAUDERDALE, Fla. -- Here's how you stop Jerry Rice and Emmitt Smith: Put them in the Hall of Fame and watch them break down and cry.
The men who tore apart NFL defenses couldn't handle the emotions Saturday when they were elected to the shrine along with five others.
"They told me, 'Don't cry,' " Rice said, his eyes wet with tears. "It meant the world to me, just like winning a Super Bowl. On draft day, I didn't take that for granted. I didn't take this for granted."
He ...

Read full story
2010 PRO FOOTBALL HALL OF FAME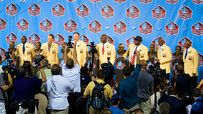 On Aug. 7, the Pro Football Hall of Fame welcomed seven new members: Emmitt Smith, Dick LeBeau, Russ Grimm, John Randle, Rickey Jackson, Jerry Rice and Floyd Little.
HOF page
|
Speeches
|
Photo Gallery
NEWS/COMMENTARY/BLOG POSTS
TRAVEL
VIDEO
PHOTOS