Discussion
Brandon Graham, others proving worth
It seems Philadelphia struck a 'lucky 13' with its baker's dozen of draft picks
BETHLEHEM, Pa. -- Some years it's obvious when a team whiffs on its draft picks. Other years, it's obvious it connected.
Though training camp is only a week old, the early indications are that the Philadelphia Eagles' 2010 draft class was a Ryan Howard-like home run.
Not only did the Eagles have a high quantity of picks -- 13 in all, including four in the fourth round -- but it appears they landed just as much quality. From their first pick to their last, it ...
Read full story
ON THE ROAD TO CAMP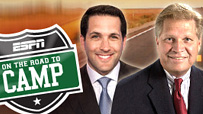 Follow NFL Insiders Chris Mortensen and Adam Schefter as they take their 32-team training camp bus tour. Tour page | Main camp page


MORT'S CAMP SCHEDULE
SCHEFTER'S CAMP SCHEDULE