Discussion
Parental consent
How one dad strives to keep his son safe
Originally Published:
January 6, 2011
By
Shaun Assael
| ESPN The Magazine
Hand me all the eye-opening data you want. I watched my son's football team go undefeated last season, and I'm a bigger believer than ever in the game's ability to foster camaraderie, clean living and focus. Of course, I am also the dad who encourages an anticoncussion workout, carries cognitive tests on my smartphone and keeps a neurosurgeon on speed-dial. Neurotic? No, just cautious. Here are tactics that make it easier to enjoy a game with my kid in it.
1. CHECK ...

Read full story
ESPN The Magazine: January 10, 2011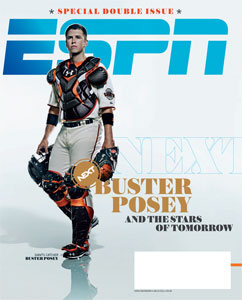 Check out ESPN The Magazine's January 10, 2011 issue -- NEXT -- below.
Features