Discussion
Shine on
For football fans and their on-field heroes, the phrase "Super Bowl Champion" has, quite literally, a great ring to it.
Updated:
January 31, 2011, 10:40 AM ET
By
Chris Raymond
| ESPN The Magazine
This story appears in the February 7, 2011 issue of ESPN The Magazine.
ON THE NIGHT OF JUNE 7, 2009, three men wearing rubber gloves, rubber boots and black Ninja-like outfits scaled the walls of a Massachusetts jewelry manufacturer, bored through the roof with a saw blade, and made off with a half-ton safe. Nestled inside, among rare coins, gold plating, assorted jewelry and gems, were 27 rings that belonged to the front-office staff of the New York Giants. They had earned them ...

Read full story
ESPN The Magazine: February 7, 2011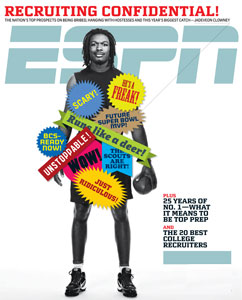 Check out ESPN The Magazine's February 7, 2011 issue below.
Features