Discussion
Taking stock of free-agent moves
This is calm before storm, but the market's already bare at LB and DT
Originally Published:
March 7, 2011
By
John Clayton
| ESPN.com
With no transactions allowed until a new collective bargaining agreement is reached, coaches and general managers have a chance to take an unusual breather.
Normally, coaches and general managers end seasons and switch their attention to the combine and free agency without much chance to rest. The frantic pace has slowed to a crawl while owners and players try to bang out a CBA in the offices of mediator George Cohen.
Approximately 450 free agents still remain unsigned. But ...

Read full story
2011 NFL DRAFT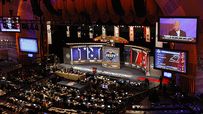 DraftTracker
|
Trade Tracker
|
Team talk
Gallery: Draft photos
|
Draft blog
PICK-BY-PICK ANALYSIS
TEAM-BY-TEAM PICKS
DIVISION DRAFT REVIEWS
ANALYSIS
NFC COLUMNS/BLOG POSTS
AFC COLUMNS/BLOG POSTS
SPORTSNATION
ESPN LOCAL DRAFT CENTERS
ESPN W
BamDavis_

AD


Cant be soft playing Oline, disrespecting the game. Im preparing my body to play my brand of football. Couldn't just go thru the motions.
21 minutes ago

mikerothstein

Michael Rothstein


Hang on Sloopy count in the Ann Arbor bar: 7. This is unbelievable.
about 3 hours ago

mikerothstein

Michael Rothstein


The Hang On, Sloopy count at the Ann Arbor bar I am in: 5.
about 3 hours ago

DanGrazianoESPN

Dan Graziano


That's Twitter gold! The stick-to-football-your-not-you're combo! https://t.co/riKs8iuN9M
about 4 hours ago

DanGrazianoESPN

Dan Graziano


37 percent chance Politi makes it to Washington tomorrow night. https://t.co/wuQ1XiewCd
about 4 hours ago

mikerothstein

Michael Rothstein


At @OldGermanA2, my spot in Ann Arbor, and on the eve of OSU they have played Hang On, Sloopy twice in a row. Did @AlbertBreer sneak in?
about 4 hours ago

DNewtonespn

David Newton


Nicely said https://t.co/M7BaUc8MiV
about 5 hours ago

MikeReiss

Mike Reiss


ESPN NFL Matchup show will preview Patriots-Broncos (Saturday, ESPN2, 8:30 a.m. ET; Sunday, ESPN, 6:30 a.m.) https://t.co/7fevy62xNK
about 5 hours ago

DNewtonespn

David Newton


Seasons like this should be enjoyed. Have fun. https://t.co/dyjL1eEoJ1
about 5 hours ago

DNewtonespn

David Newton


Great player. Would be in best interest of the team if they can work out the money. https://t.co/hWwfuFQzef
about 5 hours ago

DNewtonespn

David Newton


I wish there was a tone button for Twitter. Glad I saw your tweet. https://t.co/sL2RNl1pFV
about 5 hours ago

DNewtonespn

David Newton


Wish I had more time to respond to all. Need to find an hour in the week to just answer a Twitter questions. https://t.co/O2Uh6QErIB
about 5 hours ago

DNewtonespn

David Newton


I love disco as well. https://t.co/mBzDFNf8lp
about 5 hours ago

DNewtonespn

David Newton


Just showing differences in people. My two sons have totally different personalities and I love them both. https://t.co/TMAC9BJ5Sk
about 5 hours ago

DNewtonespn

David Newton


Cam is playing like one of the top QBs in the league. He is having fun. What's not to like? https://t.co/SC9xVRnpRU
about 5 hours ago

DNewtonespn

David Newton


I am waiting for Disco Cam https://t.co/YNrEbh3MaI
about 5 hours ago

ESPNdirocco

Michael DiRocco


Fight on, my brother! Spider causes man to trash flat, scream death threats -- police called https://t.co/N3bbJaULjO
about 5 hours ago

DNewtonespn

David Newton


The 1958 Impala from American Graffiti. A great American make out car. Heck of a cast from that movie. https://t.co/frFaF8zh04
about 6 hours ago

JamesWalkerNFL

James Walker


Jarvis Landry, Jelani Jenkins, Koa Misi all questionable for #Dolphins https://t.co/AQYFxgv8r9"-ICYMI.
about 6 hours ago

qbcentric

QBcentric


Time to go #BeyondXsAndOs Train this February 20-21 @LakePointSports with the #QBEpic staff! Sign up today https://t.co/scVS9rvL2x
about 6 hours ago