Discussion
Blaine Gabbert works out for scouts
Updated:
March 18, 2011, 11:58 AM ET
ESPN.com news services
COLUMBIA, Mo. -- Six head coaches, several general managers and a Hall of Fame passer turned front-office executive joined scouts from each of the 32 NFL teams to watch former Missouri quarterback Blaine Gabbert as he worked out with a chance to be the No. 1 selection in April's draft.
The crowd at Missouri's pro day Thursday included Denver Broncos vice president John Elway and coach John Fox, New York Jets coach Rex Ryan, Jim Harbaugh of the San Francisco 49ers, Cincinnati Bengals coach ...

Read full story
2011 NFL DRAFT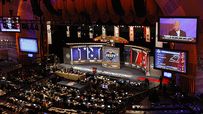 DraftTracker
|
Trade Tracker
|
Team talk
Gallery: Draft photos
|
Draft blog
PICK-BY-PICK ANALYSIS
TEAM-BY-TEAM PICKS
DIVISION DRAFT REVIEWS
ANALYSIS
NFC COLUMNS/BLOG POSTS
AFC COLUMNS/BLOG POSTS
SPORTSNATION
ESPN LOCAL DRAFT CENTERS
ESPN W
WilliamsonNFL

Matt Williamson


Just guys that are more deserving imo https://t.co/HTlVIt1ssE
about 2 hours ago

WilliamsonNFL

Matt Williamson


Just below the cutoff https://t.co/IwAq7WIIet
about 2 hours ago

WilliamsonNFL

Matt Williamson


I feel like the HOF should have a Player category, a Coach/Owner/Innovator category…comparing the 2 is too hard https://t.co/i3q83OnNVn
about 2 hours ago

SandoESPN

Mike Sando, ESPN.com


@WilliamsonNFL Agree 100 percent. If there were a coach/innovator category, he'd be in already.
about 2 hours ago

WilliamsonNFL

Matt Williamson


I know, but Coryell had much bigger impact on the game than Dungy/Cowher/Reid types https://t.co/0eWDHEiU7B
about 2 hours ago

SandoESPN

Mike Sando, ESPN.com


@WilliamsonNFL Coryell is seen as an innovator whose coaching record was missing playoff validation. That latter part has hurt w/voters.
about 2 hours ago

SandoESPN

Mike Sando, ESPN.com


@WilliamsonNFL Seemed odd for Swann to question it. Defenses rolled coverages to Megatron (and Stallworth, FWIW!).
about 2 hours ago

WilliamsonNFL

Matt Williamson


Of all the coaches eligible, I thought Coryell was easily most deserving…over Dungy https://t.co/xHH56yUCXo
about 2 hours ago

WilliamsonNFL

Matt Williamson


That is crazy talk: Calvin is easy HOF to me…would you rather line up vs T Brown/Harrison or against Mega? Yikes https://t.co/fRy00tEiyn
about 3 hours ago

SandoESPN

Mike Sando, ESPN.com


@WilliamsonNFL I know Megatron did not play as long, but he is clear HOFer to me also. Some aren't convinced.
about 3 hours ago

SandoESPN

Mike Sando, ESPN.com


@WilliamsonNFL Chart has coaches who a) didn't retire pre-1970, b) won a title, c) coached 15+ yrs and d) were >.500 https://t.co/eT1Xb1U2iJ
about 3 hours ago

WilliamsonNFL

Matt Williamson


Same as a player: Be amongst the very best at what you do for a stretch of time…be exceptional https://t.co/zqAdsetRd9
about 3 hours ago

WilliamsonNFL

Matt Williamson


One of the best 5 WRs that ever lived if you ask me! https://t.co/w3TwUPy9OX
about 3 hours ago

SandoESPN

Mike Sando, ESPN.com


@WilliamsonNFL Agreed on TO. I made what I thought was a good case for him. Just so dominant.
about 3 hours ago

WilliamsonNFL

Matt Williamson


@SandoESPN I hear ya, but to me: Coryell was much more deserving than Dungy…and of course, TO should have went before either
about 3 hours ago

SandoESPN

Mike Sando, ESPN.com


@WilliamsonNFL I didn't know if Dungy would make it. He did, though, and with backlog of HOFers depleted, bar for entry possibly not as high
about 3 hours ago

WilliamsonNFL

Matt Williamson


I honestly don't think Dungy, Cowher or Holmgren belong in the Hall of Fame…Just Missed category for me https://t.co/9E0eeDen6V
about 3 hours ago

WilliamsonNFL

Matt Williamson


Yuck, just keep your picks https://t.co/oqSD577531
about 3 hours ago

WilliamsonNFL

Matt Williamson


Cause they HAVE to be a run-heavy team https://t.co/riQ9LGDAB7
about 3 hours ago

SportsCenter

SportsCenter


Michael Crawford died suddenly at 21 years old, but his spirit lives on at Hampton University through lacrosse. https://t.co/qaVSY02sjj
about 3 hours ago