Discussion
Owners' '10 benefits payout to be $245M
Updated:
March 30, 2011, 5:58 PM ET
Associated Press
NEW YORK -- NFL owners will pay $177 million on Thursday to complete their contributions to the player benefits program for the 2010 season.
That payment will bring the total amount funded by the 32 teams for 2010 to $245 million. It is a payment the league has made by the end of March each year under its collective bargaining agreement with the NFL Players Association.
The CBA expired on March 11 and the NFLPA dissolved as a union. The league then locked out the players.
Ownership ...

Read full story
2011 NFL DRAFT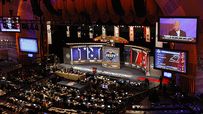 DraftTracker
|
Trade Tracker
|
Team talk
Gallery: Draft photos
|
Draft blog
PICK-BY-PICK ANALYSIS
TEAM-BY-TEAM PICKS
DIVISION DRAFT REVIEWS
ANALYSIS
NFC COLUMNS/BLOG POSTS
AFC COLUMNS/BLOG POSTS
SPORTSNATION
ESPN LOCAL DRAFT CENTERS
ESPN W
PaulGarciaPS

Paul Garcia PS


In the restricted area, the Spurs shot 16/37 from the floor (43.2%). Spurs not named Aldridge tonight shot 34.2% combined.
about an hour ago

mikecwright

Michael C. Wright


https://t.co/vyjWa7D147
about 2 hours ago

mikecwright

Michael C. Wright


Pop is screaming at the refs right now as they walk off the court.
about 4 hours ago

mikecwright

Michael C. Wright


Heroic performance by LaMarcus Aldridge in this one. Shame or the Spurs it went to waste. Spurs fall 98-97. We've got a series now.
about 4 hours ago

mikecwright

Michael C. Wright


Fifth time's a charm, I guess.
about 4 hours ago

mikecwright

Michael C. Wright


Aldridge is 3rd player in Spurs history 2 score 70 pts over first 2 games of a playoff series joining Duncan and Gervin, per @ESPNStatsInfo
about 5 hours ago

PaulGarciaPS

Paul Garcia PS


Give Aldridge 70 points in 7 quarters of this series.
about 5 hours ago

TroyAikman

Troy Aikman


Check out my buddy Pat's latest single...think you'll enjoy it!#Repost patgreenmusic・・・New… https://t.co/e6w2AYKq1G
about 5 hours ago

mikecwright

Michael C. Wright


Pop just told Patty Mills to calm his butt down.
about 5 hours ago

WilliamsonNFL

Matt Williamson


Talking #Steelers Draft with @StanLoveTheShow today https://t.co/9wqjA4sdlm
about 5 hours ago

WilliamsonNFL

Matt Williamson


Nice long convo today here in Pittsburgh w @DavidMTodd going around the league w draft breakdowns https://t.co/HaHxXOozPh
about 5 hours ago

NateDuncanNBA

Nate Duncan


Kawhi still only at 25 mins for the game. He's gotta play the rest
about 5 hours ago

wingoz

trey wingo


I DON'T KNOW WHAT THIS MEANS BUT I AM EXCITED https://t.co/mcARFhXaTK
about 5 hours ago

RichCimini

Rich Cimini


Jets star Darrelle Revis, who has been described as an artist at cornerback, will be featured with Giants CB... https://t.co/DhNevGbxjm
about 5 hours ago

royceyoung

Royce Young


Westbrook tried SO HARD not to take that 3... and then he did. And then he made it.
about 5 hours ago

mikecwright

Michael C. Wright


Per @ESPNStatsInfo, Aldridge scored 18 pts when posting up in 1st half. He avgd 8.4 PPG when posting up in playoffs, which is best in NBA.
about 5 hours ago

mikecwright

Michael C. Wright


LaMarcus Aldridge is 7 of 8 for 16 points when posting up; shooting 73.5 percent in the playoffs on such shots, per @ESPNStatsInfo
about 6 hours ago

mikerodak

Mike Rodak


Numbers for Bills UDFAs of note…LB Eric Striker, 50FB Glenn Gronkowski, 48C Rob Kugler, 67K Marshall Morgan, 9
about 6 hours ago

mikecwright

Michael C. Wright


Tie ballgame...
about 6 hours ago

mikecwright

Michael C. Wright


Somebody better guard Aldridge. *NBA Jam voice* He's heating up... 6 of 8 for 12 points so far.
about 6 hours ago