Discussion
True grit
Quarterbacks need instincts more than smarts; why are some better at getting better?
Originally Published:
April 7, 2011
By
Jonah Lehrer
| ESPN The Magazine
This story appears in the April 18, 2011 issue of ESPN The Magazine.
The ball is snapped. The quarterback drops back, immediately surrounded by a chorus of grunts and groans, the sounds of linemen colliding. The play has just begun, but the pocket is already collapsing around him. He must focus his eyes downfield on his receivers and know where they're going while also reading the ­defense. Is that cornerback blitzing or dropping back? When will the safety leave the middle? The QB ...

Read full story
ESPN The Magazine: April 18, 2011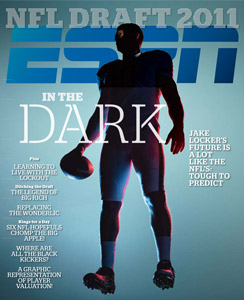 Check out what's in ESPN The Magazine's NFL Draft 2011 issue!
Features
Columns & Go/Play