Discussion
Where are the safe picks?
The most durable, successful selections may defy traditional thinking
Originally Published:
April 22, 2011
By
Dan Riccio and Kimberly Meyer
| ESPN Stats & Information
The 2009 Kansas City Chiefs were the second-worst defense in the NFL when pressuring opposing passers with one or more defensive backs, allowing an opposing passer rating of 101.9 with secondary pressure. This deficiency was among the reasons they used a top-five pick on safety Eric Berry in the 2010 draft.
Although defensive backs traditionally do not come off the board that early, Berry was considered the top safety in the draft class. He helped the Chiefs improve their blitz pressure ...

Read full story
2011 NFL DRAFT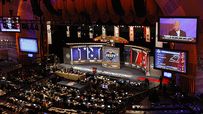 DraftTracker
|
Trade Tracker
|
Team talk
Gallery: Draft photos
|
Draft blog
PICK-BY-PICK ANALYSIS
TEAM-BY-TEAM PICKS
DIVISION DRAFT REVIEWS
ANALYSIS
NFC COLUMNS/BLOG POSTS
AFC COLUMNS/BLOG POSTS
SPORTSNATION
ESPN LOCAL DRAFT CENTERS
ESPN W
ESPN730

ESPN 730


ICYMI: @SandoESPN Joined The Pulse to talk about how Cam Newtons new contract could look and when it might happen! http://t.co/aVCLjtgSgR
about a minute ago

Edwerderespn

Ed Werder


Watching some @coleswindell music videos. I love the audacity of an artist who wears his initials on his ball cap while performing. #killsIt
2 minutes ago

Edwerderespn

Ed Werder


Watching some @GregSwindell music videos. I love the audacity of an artist who wears his initials on his ball cap while performing. #killsIt
6 minutes ago

andrewhirsh

Andrew Hirsh


Matt Bryant to the rookies: "I'm not Dan Quinn's cousin - I'm your teammate."
7 minutes ago

DanGrazianoESPN

Dan Graziano


It's only May 27. Why not hope? https://t.co/hJAHNBv8wf
17 minutes ago

DanGrazianoESPN

Dan Graziano


I think Jake Long must be in really bad physical shape to not be in Giants camp right now. https://t.co/lWMshKLgwz
17 minutes ago

DanGrazianoESPN

Dan Graziano


No idea. But he was signed to be a backup, not a starter. https://t.co/pxKEgla4eF
25 minutes ago

DanGrazianoESPN

Dan Graziano


Entirely possible they add a vet at some OL position, and/or that Schwartz plays Rtackle. https://t.co/3Ik2i2dzwb
36 minutes ago

DanGrazianoESPN

Dan Graziano


Richburg would have to be horrible, or injured, in order to lose the Giants' starting center job. https://t.co/NZJG6VXUc3
37 minutes ago

DanGrazianoESPN

Dan Graziano


Beason is always going to be an injury question mark. It's just who he is. https://t.co/vxG7SKHZw9
40 minutes ago

Edwerderespn

Ed Werder


@LRiddickESPN @DeMarcoMurray had greatest season in franchise history. Surprised so many dismiss him. Never happened with @EmmittSmith22
40 minutes ago

DanGrazianoESPN

Dan Graziano


Well, at this time of the year, when no one is trying to sack Eli, why not find out? https://t.co/qlYb6iyt2x
41 minutes ago

DanGrazianoESPN

Dan Graziano


He's there. He's a prospect they like. He's a bit small, from what I can tell, for an NFL O-lineman. https://t.co/zUqtSGJsnX
42 minutes ago

DanGrazianoESPN

Dan Graziano


You could make the case that Pugh is the best tackle currently on the Giants' roster. https://t.co/gyHhSgRZ2k
44 minutes ago

Edwerderespn

Ed Werder


So @DeMarcoMurray ran for 1,845 and left yards? @LRiddickESPN: Joe "meat on the bone" Randle. Can't wait to watch this #Cowboys RB situation
45 minutes ago

vxmcclure23

vaughn mcclure


Falcons CB Dez Southward had knee surgery today. Doesn't appear to be serious. The hope is to have him healthy for training camp.
46 minutes ago

DickersonESPN

Jeff Dickerson


Adam has name of new contract negotiator--"@adamjahns: Source: #Bears name Joey Laine director of football administration."
47 minutes ago

joshweinfuss

Josh Weinfuss


Just heard a guy at Starbucks say that staying in Staten Island is better than staying in Manhattan on vacation. No offense to SI, but nope.
54 minutes ago

MikeWellsNFL

Mike Wells


Those must have been some incredible ribs https://t.co/SqlGI0FVGm
about an hour ago

DanGrazianoESPN

Dan Graziano


Can I pick "none of the above?" https://t.co/hZGOd1f52H
about an hour ago