Discussion
Pressure for labor deal grows
Some sticking points remain, and owners are keen to save lucrative preseason games
Originally Published:
June 27, 2011
By
John Clayton
| ESPN.com
Although everyone has good vibes about the way talks are going between owners and players, this week is the most vital to start getting a deal done.
Talks without a deal can't go too much past July 4. The pressure is already obvious. The Baltimore Ravens and the New York Jets ran out of time to plan training camps away from their headquarters, a blow to Ravens and Jets fans. The St. Louis Rams will probably be the next team to decide to stay at home.
The good news is that both ...

Read full story
The NFL on ESPN.com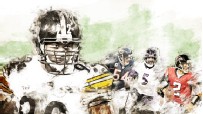 WEEK 1 PICKS
MORE NFL COVERAGE
2011 NFL PREVIEW
JOHN CLAYTON QB RANKINGS
NFL DRAFT
WilliamsonNFL

Matt Williamson


He's okay, but I want to move Clay back to OLB & get every down ILB for #Packers https://t.co/TPWaSHpJC2
about a minute ago

DanGrazianoESPN

Dan Graziano


I'm done for the night, folks. But I do love you all exactly as much as is appropriate. Thanks for the questions.
about a minute ago

DanGrazianoESPN

Dan Graziano


Strong... to quite strong. https://t.co/tnls9hn1Vi
2 minutes ago

DanGrazianoESPN

Dan Graziano


I think Darkwa gets a chance, but I'd expect same RB depth chart next year. https://t.co/iFtzZ0gstr
2 minutes ago

DanGrazianoESPN

Dan Graziano


I really don't know. Lawson? https://t.co/vSBlf6Vgw4
3 minutes ago

DanGrazianoESPN

Dan Graziano


I think Cruz and the Giants will work it out, yes. https://t.co/I9tlHLiHvX
4 minutes ago

DanGrazianoESPN

Dan Graziano


Yes. https://t.co/6fji59x8a9
4 minutes ago

DanGrazianoESPN

Dan Graziano


Possible, but I don't see how that's relevant. He's not a starter. https://t.co/JNFHLrPmlE
4 minutes ago

DanGrazianoESPN

Dan Graziano


I'm cutting this impromptu Q/A at 9 ET, so fire away now.
4 minutes ago

DanGrazianoESPN

Dan Graziano


They can look all they want, but he's still a Brown if he plays. https://t.co/sDn5QvmfR5
5 minutes ago

DanGrazianoESPN

Dan Graziano


My understanding is that McAdoo will call the plays, yes. https://t.co/xI8bN2P8so
6 minutes ago

DanGrazianoESPN

Dan Graziano


Honestly, I think you can throw all those WR2s in a hat and pick one. https://t.co/AYsenItS01
6 minutes ago

DanGrazianoESPN

Dan Graziano


I feel pretty confident Alshon Jeffery stays in Chicago. Don't see why they'd have traded Brandon Marshall otherwise https://t.co/jBXeoUfktN
7 minutes ago

DanGrazianoESPN

Dan Graziano


I think Olivier Vernon would be better, but I haven't seen Vernon Oliver enough to say for sure. https://t.co/mRN7MMPfuB
8 minutes ago

WilliamsonNFL

Matt Williamson


Valid point…guess I was optimistically thinking Tyrann is back to 100% https://t.co/qAlkQK3a7M
9 minutes ago

DanGrazianoESPN

Dan Graziano


There is no legitimate Giants candidate for the franchise tag other than maybe Josh Brown. https://t.co/Bu9BHYXJW7
9 minutes ago

WilliamsonNFL

Matt Williamson


Right, I am sure Forte would do well with Pats, but they need the banger https://t.co/1BhuDgNUFc
10 minutes ago

DanGrazianoESPN

Dan Graziano


I think they're done with Randle. As for replacements... Marvin Jones? Rishard Matthews? https://t.co/9cQysGQeC3
10 minutes ago

DanGrazianoESPN

Dan Graziano


There are many who think that'd be best for him, but at this point the Giants aren't considering that move. https://t.co/D62oLsIhm4
11 minutes ago

DanGrazianoESPN

Dan Graziano


83. https://t.co/x2T7tZwVI4
11 minutes ago