Discussion
Plaxico Burress to Giants, Steelers?
It appears likely that Plaxico Burress will be playing for one of his two former teams, the New York Giants or the Pittsburgh Steelers, according to team and league sources.
After a dinner with Giants coach Tom Coughlin on Friday night, Burress plans to fly to Pittsburgh to meet with coach Mike Tomlin, sources said.
Sources believe only a productive, fence-mending meeting between Burress and Coughlin stands between the wide receiver rejoining the Giants and ...

Read full story
The NFL on ESPN.com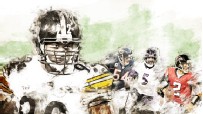 WEEK 1 PICKS
MORE NFL COVERAGE
2011 NFL PREVIEW
JOHN CLAYTON QB RANKINGS
NFL DRAFT
JoeBanner13

Joe Banner


Bills still in a win now mode, even though they don't have a QB. Love McCoy since we drafted him in philly. Bills thinking very short term
3 minutes ago

mikerodak

Mike Rodak


Full story on Bills trading Kiko Alonso to Eagles for LeSean McCoy, as first reported by @AdamSchefter, here: http://t.co/CLa5RKa96r
3 minutes ago

DanGrazianoESPN

Dan Graziano


Bet they run a lot. RT @ChrisMucci: @DanGrazianoESPN benefits both teams. The Bills still don't have an adequate QB
4 minutes ago

SandoESPN

Mike Sando, ESPN.com


May or may not apply here, but deals can get done very quickly when the head coach is in charge. "Just get it done!"
4 minutes ago

PaulKuharskyNFL

Paul Kuharsky


Jonathan Massaquoi looks worthy of being claimed by Titans: NASHVILLE, Tenn. -- Jonathan Massaquoi, th... http://t.co/gqmsF9jr0V #Titans
4 minutes ago

DanGrazianoESPN

Dan Graziano


Bills were 4th in defense and just got McCoy for a guy they didn't use last year. Rex feeling like he stole something.
6 minutes ago

mikerothstein

Michael Rothstein


From earlier, former #Lions practice squadder (and current rugby sevens player) Carlin Isles interested in NFL return http://t.co/uoAQV5me0J
6 minutes ago

SandoESPN

Mike Sando, ESPN.com


Ancient #Eagles history:http://t.co/t8uepVpQ3c
10 minutes ago

WilliamsonNFL

Matt Williamson


.@DawsonWalkerInc Oh I like that Vereen to #Eagles call!
11 minutes ago

DanGrazianoESPN

Dan Graziano


Tessio was always smarter. RT @cowbellguy19: @DanGrazianoESPN thought it would be Clemenza (Maclin). Not Tessio (McCoy).
12 minutes ago

Jeff_McLane

Jeff McLane


If #Eagles can't re-sign Jeremy Maclin or any of their FAs, once McCoy trade goes through team will have more than $50 million in cap space.
12 minutes ago

WilliamsonNFL

Matt Williamson


Start of what should be a very active offseason for #Eagles
14 minutes ago

ESPNdirocco

Michael DiRocco


That's a lot. RT @ryanohalloran: A big CONGRATS to T-U Sports Bard Gene Frenette for hitting, gulp, 30,000 career Tweets.
16 minutes ago

mikerodak

Mike Rodak


Another wrinkle for Eagles fans to consider: Since Alonso spent last season on NFI, he'll only be a restricted free agent after 2016.
16 minutes ago

mikerodak

Mike Rodak


As for Eagles fans, Kiko Alonso told @JohnMurphyShow show last week that he'd be 100 percent by training camp.
17 minutes ago

MattOverton_LS

Matt Overton


I am incredibly blessed & excited to be a Colt for the next 4 years. Can't wait to get back to work with my brothers! All love Colts Nation!
18 minutes ago

nwagoner

Nick Wagoner


Scouring the Forbes list, seems I missed Miami owner Stephen Ross at $6.5 billion. So for those keeping score, Kroenke third among owners.
20 minutes ago

SheridanScribe

Phil Sheridan


Jeremy Maclin: Kelly will `get his guy': PHILADELPHIA -- It's either refreshing honesty or nothing mor... http://t.co/JkyO4V9OYI #Eagles
20 minutes ago

jackbechta

jack bechta


love seeing teams make trades. many GMs are afraid to be on losing end
22 minutes ago

DanGrazianoESPN

Dan Graziano


Chip Kelly, settling all family business.
26 minutes ago