Discussion
Daunte Culpepper to work out for 49ers
Updated:
August 14, 2011, 10:33 PM ET
Associated Press
SAN FRANCISCO, Calif. -- Daunte Culpepper is the latest addition to the San Francisco 49ers' stable of quarterbacks.
After a three-hour practice Sunday, San Francisco coach Jim Harbaugh said the team is bringing in the 34-year-old Culpepper for a tryout on Monday.
"We're going to have Daunte in for a workout and kick the tires," Harbaugh said. "I'm looking forward to that."
Harbaugh said Saturday that the 49ers have no clear-cut starter at quarterback after veteran Alex ...

Read full story
The NFL on ESPN.com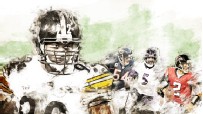 WEEK 1 PICKS
MORE NFL COVERAGE
2011 NFL PREVIEW
JOHN CLAYTON QB RANKINGS
NFL DRAFT
MikeReiss

Mike Reiss


Dante Scarnecchia is back as Patriots OL coach after a two-year retirement. He explains how his return unfolded. https://t.co/YFoNr0Ck36
29 minutes ago

PaulGarciaPS

Paul Garcia PS


In the restricted area, the Spurs shot 16/37 from the floor (43.2%). Spurs not named Aldridge tonight shot 34.2% combined.
about 2 hours ago

mikecwright

Michael C. Wright


https://t.co/vyjWa7D147
about 3 hours ago

mikecwright

Michael C. Wright


Pop is screaming at the refs right now as they walk off the court.
about 5 hours ago

mikecwright

Michael C. Wright


Heroic performance by LaMarcus Aldridge in this one. Shame or the Spurs it went to waste. Spurs fall 98-97. We've got a series now.
about 5 hours ago

mikecwright

Michael C. Wright


Fifth time's a charm, I guess.
about 5 hours ago

mikecwright

Michael C. Wright


Aldridge is 3rd player in Spurs history 2 score 70 pts over first 2 games of a playoff series joining Duncan and Gervin, per @ESPNStatsInfo
about 6 hours ago

PaulGarciaPS

Paul Garcia PS


Give Aldridge 70 points in 7 quarters of this series.
about 6 hours ago

TroyAikman

Troy Aikman


Check out my buddy Pat's latest single...think you'll enjoy it!#Repost patgreenmusic・・・New… https://t.co/e6w2AYKq1G
about 6 hours ago

mikecwright

Michael C. Wright


Pop just told Patty Mills to calm his butt down.
about 6 hours ago

WilliamsonNFL

Matt Williamson


Talking #Steelers Draft with @StanLoveTheShow today https://t.co/9wqjA4sdlm
about 6 hours ago

WilliamsonNFL

Matt Williamson


Nice long convo today here in Pittsburgh w @DavidMTodd going around the league w draft breakdowns https://t.co/HaHxXOozPh
about 6 hours ago

NateDuncanNBA

Nate Duncan


Kawhi still only at 25 mins for the game. He's gotta play the rest
about 6 hours ago

wingoz

trey wingo


I DON'T KNOW WHAT THIS MEANS BUT I AM EXCITED https://t.co/mcARFhXaTK
about 6 hours ago

RichCimini

Rich Cimini


Jets star Darrelle Revis, who has been described as an artist at cornerback, will be featured with Giants CB... https://t.co/DhNevGbxjm
about 6 hours ago

royceyoung

Royce Young


Westbrook tried SO HARD not to take that 3... and then he did. And then he made it.
about 6 hours ago

mikecwright

Michael C. Wright


Per @ESPNStatsInfo, Aldridge scored 18 pts when posting up in 1st half. He avgd 8.4 PPG when posting up in playoffs, which is best in NBA.
about 6 hours ago

mikecwright

Michael C. Wright


LaMarcus Aldridge is 7 of 8 for 16 points when posting up; shooting 73.5 percent in the playoffs on such shots, per @ESPNStatsInfo
about 7 hours ago

mikerodak

Mike Rodak


Numbers for Bills UDFAs of note…LB Eric Striker, 50FB Glenn Gronkowski, 48C Rob Kugler, 67K Marshall Morgan, 9
about 7 hours ago

mikecwright

Michael C. Wright


Tie ballgame...
about 7 hours ago