Discussion
Kyle Williams, Brad Smith skip practice
Updated:
August 29, 2011, 8:36 PM ET
Associated Press
ORCHARD PARK, N.Y. -- Buffalo Bills defensive lineman Kyle Williams and wide receiver/wildcat quarterback Brad Smith have been held out of practice for precautionary reasons due to injuries.
Coach Chan Gailey says Smith twisted his foot, but didn't specify the nature of Williams' injury Monday. It was the Bills' first practice since a 35-32 overtime preseason win over Jacksonville on Saturday.
Both were hurt in the game, but did not miss playing time. Williams had a sack and ...

Read full story
The NFL on ESPN.com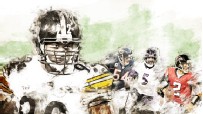 WEEK 1 PICKS
MORE NFL COVERAGE
2011 NFL PREVIEW
JOHN CLAYTON QB RANKINGS
NFL DRAFT
wingoz

trey wingo


The biggest issue though Amy.. it can't be up to the players. The system has to protect them from themselves. https://t.co/wcIZBvoYPg
about a minute ago

ColeyHarvey

Coley Harvey


Only twice this season (vs. KC, Cleveland) have #Bengals gone w/o an interception. Better communication a reason why https://t.co/trKqboJc4r
6 minutes ago

wingoz

trey wingo


@judybattista see my twitter poll. A part of me is sad BrockyTop isn't getting more love. Nuance lost on a twitter generation.
6 minutes ago

GoesslingESPN

Ben Goessling


I pass this along as a public service announcement. You're welcome. https://t.co/gjTWHa7Brd
7 minutes ago

wingoz

trey wingo


Brocky Mountain High, Brocky Top, Brockweiler, Bossweiler, Knute Brockne, Keep on Brocking me baby, list is endless https://t.co/TdlGoxIEgF
9 minutes ago

ColeyHarvey

Coley Harvey


Geno Atkins should be NFL's Defensive Player of the Year ... at least, that's what #Bengals DC Paul Guenther thinks https://t.co/JrrFNUT7cu
9 minutes ago

Edwerderespn

Ed Werder


We saw what happened to Ryan Mallet when he took himself out. https://t.co/8XgjRbQgUr
11 minutes ago

Edwerderespn

Ed Werder


The most important thing Ben Roethlisberger did beyond self-reporting concussion symptom was saying today, "I think more guys should do it."
11 minutes ago

Edwerderespn

Ed Werder


Ben Roethlisberger reported symptoms with #Steelers down 32-30 with 3:00 left. It was 39-30 when Landry Jones took over at QB
12 minutes ago

VikingsPR

Vikings PR


With his performance vs. ATL @itheeayb is the 1st Viking since Chris Doleman in '92 with at least 8 tckls, 2 FFs and 1 sack in a single game
12 minutes ago

jamisonhensley

Jamison Hensley


For entertainment purposes only ... https://t.co/Kwh4tlm6ay
13 minutes ago

wingoz

trey wingo


Nice or not nice isn't the issue...honest assessment is. https://t.co/r5P0NGAswt
18 minutes ago

wingoz

trey wingo


to be fair... your yard wasn't big enough to run those plays... https://t.co/YjjmgvyyTz
18 minutes ago

wingoz

trey wingo


Exactly right Ed... https://t.co/R34yr4PhY2
21 minutes ago

Edwerderespn

Ed Werder


The most important thing Ben Roethlisberger did beyond self-reporting concussion symptom was saying today, "I think more guys should do it."
21 minutes ago

GoesslingESPN

Ben Goessling


The #Vikings run the ball out of six personnel groups. They're in the top 10 in the NFL in four of them: https://t.co/kquxemooEP
28 minutes ago

PaulKuharskyNFL

Paul Kuharsky


#Titans are 30th in https://t.co/zFyZ2KN7Cn NFL Power Rankings, ahead of 49ers and Browns. https://t.co/9mo94EV99s
28 minutes ago

PatMcManamon

PatMcManamon


This week's "That's So Browns:" Do you even have to ask what it might be? - https://t.co/efoKaBPphf
31 minutes ago

PaulKuharskyNFL

Paul Kuharsky


Brian Anderson and one-time Titan @CSimmsQB will call Sunday's #Jaguars-#Titans game. They are the No. 8 crew of @CBSSports' eight crews.
32 minutes ago

DNewtonespn

David Newton


#Panthers new No. 1 in 2015 NFL Power Rankings: Week 13 https://t.co/jo1DhPvzUe
33 minutes ago