Discussion
Former Bucs DE Lee Roy Selmon dies
Updated:
September 5, 2011, 8:52 AM ET
Associated Press
TAMPA, Fla. -- Lee Roy Selmon, the Hall of Fame defensive end who teamed with his brothers at Oklahoma to create a dominant defensive front that helped lead the Sooners to consecutive national championships, died Sunday -- two days after being hospitalized for a stroke. He was 56.
A statement released on behalf wife Claybra said he died at a Tampa hospital surrounded by family members.
"For all his accomplishments on and off the field, to us Lee Roy was the rock of our family. ...

Read full story
The NFL on ESPN.com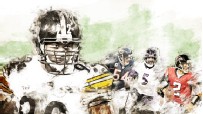 WEEK 1 PICKS
MORE NFL COVERAGE
2011 NFL PREVIEW
JOHN CLAYTON QB RANKINGS
NFL DRAFT
sbstatesman

The Statesman


Algieri repping #Seawolves hat while praying, and then show video of him at LaValle on homecoming.
about 2 hours ago

BruceFeldmanCFB

Bruce Feldman


Brett Hundley: "#UCLA owns LA. Remember that." #Bruins QB is now 3-0 vs. Trojans.
about 3 hours ago

Jack_Dargis

Jack Dargis


@McShay13 thanks for the picture today! Remember what I said, you top Kiper any day! http://t.co/ZdzgaNrhVy
about 3 hours ago

coachpenner

Justin Penner


@McShay13 thanks for the hospitality Iowa style. http://t.co/XDLOP89MTu
about 3 hours ago

McShay13

Todd McShay


NO!!! Tell me UT didn't just Ben a TO for review?
about 3 hours ago

McShay13

Todd McShay


Refs got it right, but wild two onside kicks in Knoxville
about 3 hours ago

HistoryInPics

History In Pictures


Construction of the Berlin Wall, Germany, 1961 http://t.co/B5OfYOEOYX
about 3 hours ago

JamesWalkerNFL

James Walker


W2W4: Miami #Dolphins http://t.co/BLyhBoYDX6"-For the late crowd.
about 3 hours ago

JamesWalkerNFL

James Walker


The Hurricanes' loss could be the start of a rough weekend for MIA tweeps. I picked the #Broncos over #Dolphins in a close game. #JustSaying
about 4 hours ago

JamesWalkerNFL

James Walker


UVA trounces the #Hurricanes, 30-13. Miami falls to 6-5 and 3-4 in the ACC Coastal division.
about 4 hours ago

JamesWalkerNFL

James Walker


"@David_Engelson: @JamesWalkerNFL Golden can recruit talent. He's unable to further develop their talent. #UM"-That's a MAJOR problem.
about 4 hours ago

JamesWalkerNFL

James Walker


I see the excuses, #Hurricanes tweeps. Don't sugarcoat this one. UVA is 4-6. There's no excuse to lose by three touchdowns.
about 4 hours ago

JamesWalkerNFL

James Walker


UVA is pouring it on to take a 30-7 lead over the Hurricanes. The U put all its eggs into the Florida State game and didn't show up for UVA.
about 4 hours ago

JamesWalkerNFL

James Walker


"@paphinsfan:The days of championships are over. Let's just be competitive in the ACC."-But the #Hurricanes are 3-4 in the COASTAL division.
about 4 hours ago

PatMcManamon

PatMcManamon


Cavs, at home, losing by 16, to Toronto. Sheesh.
about 4 hours ago

JamesWalkerNFL

James Walker


Barring an unexpected comeback, the #Hurricanes will finish either 7-5 or 6-6 not including a bowl game. Is that acceptable, Miami tweeps?
about 4 hours ago

JamesWalkerNFL

James Walker


#Hurricanes QB Brad Kaaya throws a pick trying to do too much. This one is over, folks. Miami falls to 6-5. #MIAvsUVA
about 4 hours ago

JamesWalkerNFL

James Walker


Barring an unexpected comeback, the #Hurricanes will finish the season either 7-5 or 6-6. Is that acceptable, Miami tweeps?
about 4 hours ago

JamesWalkerNFL

James Walker


UVA takes a 23-7 lead over the #Hurricanes. I haven't seen anything in 3 quarters to think MIA has enough offense to avoid falling to 6-5.
about 4 hours ago

JamesWalkerNFL

James Walker


Now the #Hurricanes look confused on offense. #MIAvsUVA
about 5 hours ago