Discussion
Can 49ers 'manage' a Super Bowl?
Great defense, opportunistic special teams, questionable QB -- I've seen this before
Originally Published:
November 19, 2011
By
Trent Dilfer
| ESPN Insider
When we moved to Baltimore after six years in Tampa, we'd rented a house two doors down from Ray Lewis. In the evenings while the kids played in the yard, I would sit on the porch and go through our game plan sheets, taking notes. Looking over the plays, I tried to remind myself constantly, even jotting it down while imagining in my head how they would develop, "This isn't just about the play, it's about the philosophy."
On that Baltimore Ravens team, with such a great defense, everything came down to a risk-reward proposition. You can call it "managing the game" if you want, but for us it was about maximizing our total personnel situation. How do we get the most out of 53?
It was about complementary schemes. If you know your defense is extraordinary, if you can keep those players fresh and in good field position, you minimize risks. On that team, we knew that if we tried to win 45-10 we were risking losing 23-20. But we also knew winning 20-10 was always an option if we played smart. I recall being on our 20, dropping and seeing a tight window on a 20-yard throw -- one I felt I could make -- and remembering to just take that 6-yard dump-off. (Having Lewis as a neighbor may have been a reminder.)
They weren't going to score on our defense unless it was a short field. Don't allow that to happen.
Now, you've gotta realize: I know who I am. And I knew who I was then. I knew that 20-yard throw wasn't a given. By that time, I'd felt the ebbs and flows of the league. I understood failure. And I still thank Ray for allowing me to win that Super Bowl.
So when I was asked this week if the San Francisco 49ers of 2011 reminded me of that 2000 Ravens team, I wasn't offended. I get it: great defense, good coaching, quarterback you hope doesn't ruin it.
It's a good question, though.
Do the 49ers have a chance to be like that 2000 Ravens team?
The answer is yes; they are capable of achieving that kind of success, and here's why.
To read Trent's full take on the 2011 San Francisco 49ers, you must be an ESPN Insider. Sign up today!
Insider
NFL WEEK 11 PREVIEW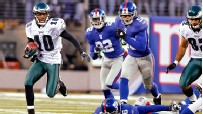 WEEK 11 PICKS
HOT READ: It's tough to be a DB
POWER RANKINGS
FINAL WORD
HOT BUTTON: No. 1 seed in AFC?
COMMENTARY/BLOG POSTS
MNF: Chiefs at Patriots, 8:30 ET
NFL DRAFT