Discussion
Rodgers: "I'm trying to break old habits"
Green Bay's QB dishes on how he became so dominant and where he goes from here
Updated:
December 1, 2011, 11:03 AM ET
By
David Fleming
| ESPN The Magazine
This article appears in ESPN The Magazine's Dec. 12, 2011 "Interview Issue."
FLEMING: In Week 9 against the Chargers, your third touchdown was a 21-yard pass to receiver James Jones in which you audibled out of a run play at the line of scrimmage, froze the deep safety with your eyes and then threw a ball that seemed to materialize in Jones' hands when he reached the end zone. What does it feel like to be in a zone like this?
RODGERS: It's a lot of fun. It feels ...

Read full story
ESPN The Magazine: December 12, 2011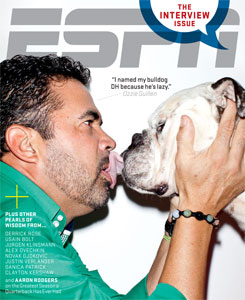 The Interviews
More from the issue