Discussion
National pass time
The NFL has historically been a run-first league, but consider that script flipped
Updated:
December 15, 2011, 4:06 PM ET
By
KC Joyner
| ESPN The Magazine
BILL WALSH ALWAYS BELIEVED that pro football should evolve into a game played primarily through the air. Now, nearly a quarter century after the legendary 49ers coach introduced the West Coast offense, Walsh's pass-happy vision is becoming reality. Through Week 13, NFL quarterbacks were completing 20.5 passes per game, tied for most all-time, and teams were averaging 230.1 passing yards per game, destroying the previous mark of 221.6 that was set just last year. In 1978, the year before Walsh took over the 49ers, teams averaged 158.8 passing yards per game.
So why are these records under fire? One obvious answer is the lockout. As a result of the shortened preseason, run-blocking was atrocious in the first month of the season, the worst I've seen in my nine years of analyzing tape of every NFL game. Take the Titans, for example: Behind a revamped run-blocking scheme (O-coordinator Chris Palmer switched Tennessee from man-to-man to zone blocking), the Titans averaged a paltry 2.4 yards per carry in their first three games. Chris Johnson, the league's top rusher last year, managed only 98 yards on 46 carries (2.1 ypc) in September. That forced Tennessee to turn loose veteran QB Matt Hasselbeck, who is on pace for his first 3,500-yard season since 2007. Eventually, the Titans' run game (4.4 ypc since September) caught up with the pass offense, and Tennessee emerged as a playoff contender.
For more of KC Joyner's insight into the transformation of the NFL, become an ESPN Insider today!
Insider
ESPN The Magazine: December 26, 2011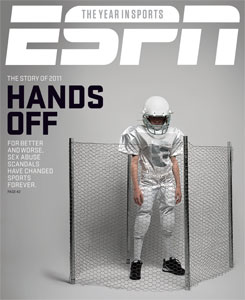 Features
More from the issue