Discussion
The blame game
Why do fans always pick the wrong side on holdout disputes?
Updated:
May 3, 2012, 2:31 PM ET
By
Howard Bryant
| ESPN The Magazine
DURING THE HEIGHT of the Ozzie Guillen foot-in-mouth controversy, curiously few fans defended the manager's prerogative to speak his mind. Rather, many took the stance that his employer, the Miami Marlins, had every right to discipline him harshly for speaking in favor of Cuban dictator Fidel Castro. "If I said something my boss didn't like," went a common attitude in the fan blogosphere, "I'd get fired immediately."
At nearly the same time, in a different sport, ...

Read full story
ESPN The Magazine: May 14, 2012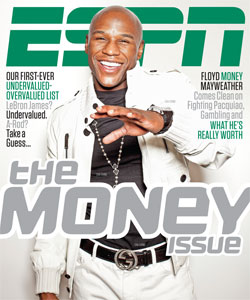 FEATURES IN THE MONEY ISSUE

COLUMNS

MORE FROM THE MONEY ISSUE
ESPN FAN SHOP