Discussion
Athletes react to Seau's death
Updated:
May 2, 2012, 6:36 PM ET
As news filtered out of former NFL linebacker Junior Seau's death, former teammates and other athletes whose lives he touched reacted on Twitter.
I had the HONOR of playing with Junior in Miami in 06. He was the best ever. Called everyone "Buddy" I love him #RipJuniorSEAU
— Alex Holmes (@Trojan81) May 2, 2012
I am deeply saddened by the events that have transpired today. My heartfelt condolences and sympathy go out to (cont) tl.gd/h8jbkm
— Troy Polamalu (@tpolamalu) ...
Read full story
Junior Seau: 1969-2012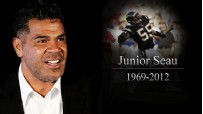 JUNIOR SEAU DIES