Discussion
Seau family revisiting brain decision
Updated:
May 6, 2012, 5:00 PM ET
ESPN.com news services
The family of Junior Seau is reconsidering its decision to allow researchers to study his brain for signs of damage caused by concussions suffered during his 20-year NFL career, Chargers team chaplain Shawn Mitchell said Sunday.
Mitchell said Sunday that the family, which is of Samoan descent, is consulting with a group of elders on a number of matters.
He says it doesn't necessarily mean that the family won't donate Seau's brain for research.
"They really want to do everything ...

Read full story
Junior Seau: 1969-2012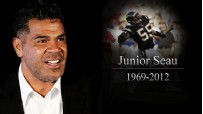 JUNIOR SEAU DIES