Discussion
NFL Future Power Rankings
Evaluating the core of every franchise as it projects for the 2015 season
Originally Published:
May 23, 2012
By
Trent Dilfer, Mel Kiper, Gary Horton, Matt Williamson
| ESPN Insider
Peering into the future of the parity-driven, rapidly changing NFL can seem like a daunting challenge. For starters, teams turn over, on average, about 20 percent of their rosters each season. But when you consider that most of the players caught in that roster churn are essentially replaceable parts and that the true pillars of a franchise -- stud quarterbacks and young impact players -- usually remain firmly fixed in its foundation, you can see it is possible to get a glimpse of how each team projects down the road. And you can see that some roads are paved a little more smoothly than others.
In consultation with former NFL GM Bill Polian, we pinpointed five categories essential to projecting the future of an NFL franchise: roster, quarterback, draft, front office and coaching staff. We then weighted each category according to its importance to success. (For a more detailed breakdown on each category and its weighting, see our methodology). Next, Polian stepped away to allow four of ESPN Insider's other NFL experts -- Mel Kiper, Trent Dilfer, Gary Horton and Matt Williamson -- to evaluate every franchise in each category as they project for the 2015 NFL season.
Will their evaluations flawlessly stand up in three years' time? In a league as fluid as the NFL, it is unlikely, and we acknowledge that. But they provide some interesting conclusions about what's truly important to succeeding on a perennial basis in the NFL, specifically the value of a franchise QB. And although some teams might experience a down year, the squads at the top of this list are well suited for sustained success over the long term. These ratings also provide a broad, well-informed outline of which teams are heading in the right direction and which have plenty of work to do before they climb into the ranks of Super Bowl contenders. So, how do our experts see the NFL stacking up in 2015? Take a look.
---
AFC
NFC
---
1

The bar graphs reflect the average rating given by the voters for each category.
Category averages are weighted by importance to generate overall score.
Roster: With impact players on both sides of the ball, the high-scoring Packers might actually have more stars on defense than offense in three years. This is especially true among their front seven, led by DT B.J. Raji and OLB Clay Matthews. The Packers' WR group is aging and the run game is inconsistent, but the Packers will continue to find quality weapons for QB Aaron Rodgers. -- Gary Horton
Quarterback: Right now, Rodgers plays the position about as well as we've seen it played. He's also only 28. That said, is Green Bay comfortable with the current backup situation of Graham Harrell and B.J. Coleman? Matt Flynn's absence at least creates the question. -- Trent Dilfer
Draft: The Packers worked hard to fix the front seven in the 2012 draft. How well they are able to draft pass-rushers will define the next few years, but this is an exceptional scouting department in which finding great value is routine. -- Mel Kiper
Front office: GM Ted Thompson heads a very efficient scouting staff and believes in building a team through the draft rather than spending a lot of money in free agency. What's more, the Packers often re-sign that in-house talent, using the open market only to fill specific needs. It's a model that promotes enduring success. -- Horton
Coaching: This coaching staff has great experience and stability and combines a blue-collar work ethic with extreme attention to detail. Nobody in the NFL teaches basic fundamentals like this staff, headed by Mike McCarthy. The Packers are creative and innovative on both sides of the ball, work well together and respect one another. This is a family atmosphere that coaches embrace and do not want to leave. -- Horton
To see which teams came out on top of the Insider's first NFL future power rankings -- and get access to the full series and the rest of ESPN Insider's NFL content -- become an Insider today.
Insider
The NFL on ESPN.com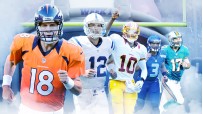 CLAYTON/FOX/SCHEFTER
MONDAY NIGHT FOOTBALL
WEEK 1 PICKS
BOUNTY BANS OVERTURNED
FINAL WORD
2013 NFL DRAFT
MORE NFL COVERAGE