Discussion
In the "no"
For Troy Polamalu, financial success means getting rid of yes-men
Originally Published:
June 11, 2013
By
Darren Rovell
| ESPN The Magazine
TROY POLAMALU ANSWERS the phone at his mansion in La Jolla, Calif.
"What's this I hear about you getting another house?" says the voice on the other end of the line. It comes across as more of a challenge than a question.
"It's a cheap house," Polamalu insists. "Like, really cheap."
The Steelers safety can certainly afford it. He has no debt, made $367,000 per week last season and has plenty of money in savings. 
"I made millions ...

Read full story
ESPN The Magazine: June 24, 2013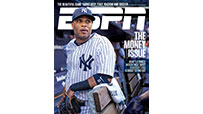 The Mag on Twitter | Facebook | iPad
COLUMNS
MORE FROM THE MAG